Is Subaru BRZ or Toyota 86 a Good First Car? (+ GT86, FRS)
First cars should be cheap and fuel-efficient, but a sports car doesn't fit those criteria.
That said, entry-level sports cars like the Subaru BRZ, Toyota 86, GT86, GR86, and Scion FR-S are good first cars for car guys, as long as you can keep your eagerness in check.
Still, it's crucial to understand the drawbacks before deciding.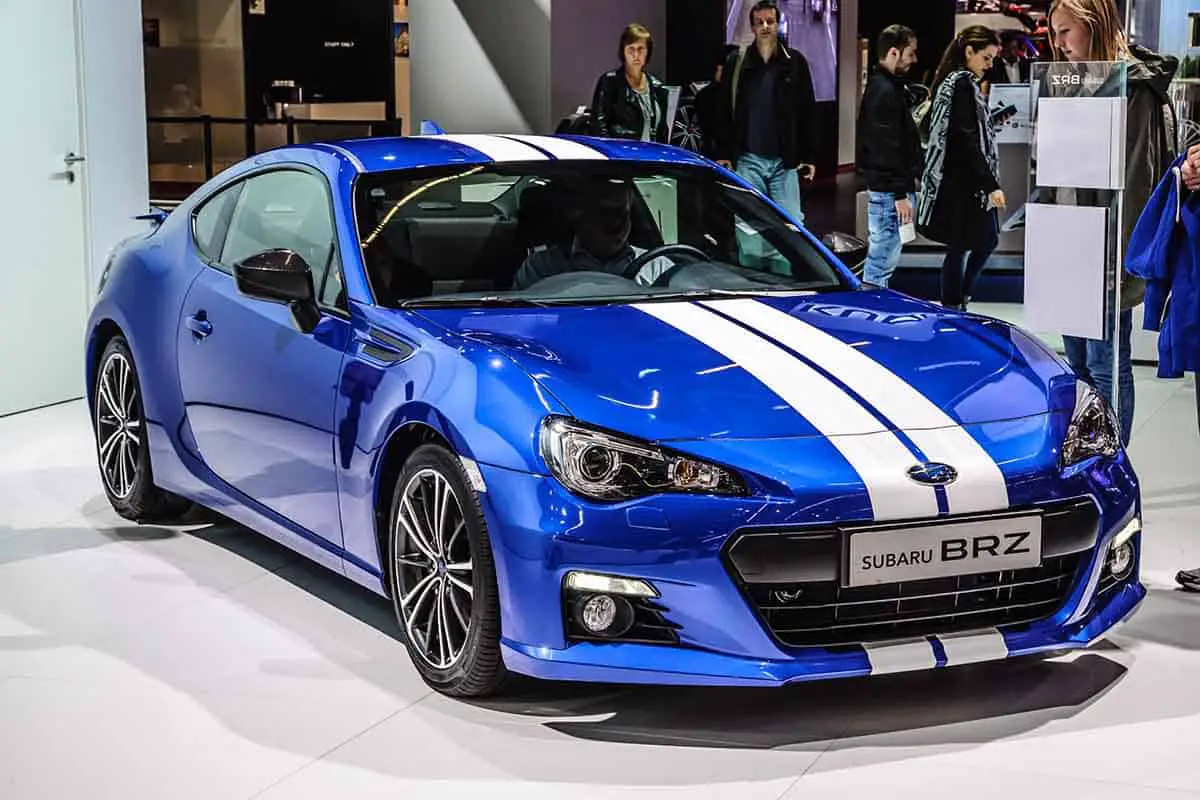 Similarities: Toyota 86, GT86, GR86, Scion FRS & Subaru BRZ.
The 86's life began with the legendary AE86 in 1983 and ended in 1987.
It used the same FMR layout (front-engine, rear-wheel-drive) that became the basis of the 86s as it evolved – but the AE86's exterior styling is distinctively different from all the 86s that followed.
The 86 resurfaced in 2012 in the United States as the Scion FR-S (Scion is Toyota's 'youth' brand) and Subaru BRZ; Subaru jointly developed the 86 with Toyota.
Toyota 86 succeeded the Scion FRS with the Scion brand's demise in 2016, while the Subaru BRZ continues its conquest to this day.
The GT86 is essentially a rebadge of the 86 with skinny tires, exclusive to the European market.
All-new in 2022 is the renamed GR86, which improves on the 86 with a more powerful engine (2.4-liter), revised styling, and enhanced driving dynamics.
These models are more alike than they are different:
Similar coupe styling – except for some variations in grill and headlight designs.
Naturally aspirated boxer engine – the GR86 is the latest among them, and it packs extra horses (2.4-liter) and is lighter and speedier.
Front-engined.
Rear-wheel-drive architecture.
Similar interior dimensions.
Are the Toyota 86, GT86, FRS, and BRZ Sports Cars?
The general perception of a sports car is a low-slung vehicle built for speed and performance over most other road-going automobiles.
Plus, they aren't as comfortable for everyday travel as the regular daily drivers.
A sports car has these qualities:
High-powered engine – for stronger acceleration and, in many cases, higher top speed.
Precise handling – typically with stiffer suspension settings for negotiating corners.
Stronger brakes – for added stopping power.
Aerodynamically shaped – but not always.
Low center of gravity.
A sports car has design-and-built-for-performance credentials at birth; it's in the DNA.
Therefore, the Toyota 86, GT86, Scion FRS, and Subaru BRZ are sports cars – although they are entry-level ones.
A sporty car differs from a sports car.
Contrary to a sports car, a sporty car is a 'standard' car with options for add-on accessories or revised parts to improve specific performance parameters.
A sporty car can also have the looks of a sports car but without the performance.
Sports Cars for a First Car
Sports cars have unmistakable characteristics that make them a driving machine, but some of those qualities make surprisingly solid points for a first-time car owner.
Most sports cars are rear-wheel-drive.
Rear-wheel drive vehicles put power onto the ground through the rear wheels – excellent for learning to control both ends of the machine between throttle control and steering.
They provide power and control around mid and high-speed corners without losing traction.
However, most young drivers looking to get their first car won't need what a sports car can offer.
Sports cars typically have small trunk space for obvious reasons not to overload the rear wheels, but it's not ideal for daily commutes with equipment to haul.
The low hood gives the driver an excellent view forward, although the low seating position compromises the visibility somewhat.
Overall, the low-slung design is a drawback for more accident-prone young drivers.
Compared to an FWD with the equivalent power, weight, and tire size, RWD will give you a faster acceleration – again, not a strong argument for a car that needs to travel from A to B safely as a top priority.
Too much power can create bad habits.
#1 Is the Scion FRS, Toyota 86, and GT86 a Good First Car?
The progression from Scion FRS to Toyota 86 and GT86 was a rebadging exercise.
They saw subtle changes that included styling and lighting design tweaks, plus interior refinements through the years.
Fundamentally, they remain the same car. Your choice is model year or market-specific.
If you want to learn the essentials of performance driving without burning a hole in your wallet, the Scion FRS, Toyota 86, or GT86 is an excellent first car:
Excellent forward visibility – always a positive for a new driver.
Excellent steering and precise handling – the car goes where you point it, and it's fun to drive.
Light and well-balanced chassis – corners like a champ.
Rear-wheel-drive – it is why you're considering an 86. It's competitively priced for an RWD car.
Responsive engine – low-end power is commendable as you accelerate from a standstill, but its mid-range power will leave you wanting more.
The perfect learner's machine – good for controlling both ends of the vehicle.
Ample windows – makes lane-changing and parking easy.
Compactness – another plus point when parking.
Distinctive styling – a sports coupe as a first car ensures the crowd takes notice.
The FRS and Toyota 86's Drawbacks
Some drawbacks may help to keep expectations in check:
Relatively modest power – the engine feels weaker than the specs suggest. It does not have the more powerful 2.4-liter engine that the newer GR86 has. Alternatively, you can install a turbo for a power boost.
Small trunk space – but if you're getting a sports car as your first car, you shouldn't expect much of it.
Small backseat – the same complaint about coupes; a norm you should expect.
Noisy interior – particularly at highway speeds.
Dated interior – uncomplicated and minimalist, but the cabin saw improvements in newer models.
Stiff ride – great if you're behind the wheel, but uncomfortable for passengers, especially in the rear seats.
Middling fuel economy – will continue to underperform compared to newer fuel-efficient vehicles in the face of rising gas prices.
Lacks driver safety aids – especially in the older models.
Relatively expensive to insure – compared to sedans.
An automatic gearbox is available, but you shouldn't have it. The manual is more in keeping with the car's driving spirit.
How Does the Toyota 86 Compare to a Sporty Car?
The GT86, with its higher-performance specifications, renders it less of an ideal first car than the base Toyota 86 for daily driving.
If you have your heart set on an 86, it is a good first car; you'll enjoy it even on short drives.
But let's compare it to a sporty car like the Honda Civic Si to get an idea if a non-standard sedan can make a viable alternative.
For an enthusiast, comparing the 86 to a regular sedan is a gap too far to reason.
Table Guide:
Fuel Economy: mpg city/highway/combined (manual).
Safety (IIHS): 1 (poor) to 4 (good); IIHS tests average.
Safety (NHTSA): 1 (poor) to 5 (safest); NHTSA overall.
Visibility: excellent, good, average, poor.
| | | | | | |
| --- | --- | --- | --- | --- | --- |
|   | Horsepower | Fuel Econ. | Safety (IIHS) | Safety (NHTSA) | Visibility |
| Toyota 86 | 205-228 hp | 21/28/24 | 3.8/4 | 4/5 | Good |
| Honda Civic Si | 197-205 hp | 26/36/30 | 4/4 | 5/5 | Good |
Toyota 86 and Honda Civic SI comparison.
Both are fun to drive, but the Honda Civic Si is cheaper, more frugal on fuel, and has better safety ratings.
The Insurance Institute for Highway Safety (IIHS) rated the Toyota 86 'Good' in all but one test, the Small Front Overlap (driver0-side), hence the less-than-perfect score.
If you love a coupe for the cool factor, the Honda Civic Si has one too.
#2 Is the Subaru BRZ a Good First Car?
The BRZ shares the same powertrain and design architecture as the FRS, 86, and GT86, except for minor weight, suspension stiffness, and front fascia design tweaks.
If what you want is three pedals and a thrilling ride for two (or three, max), the BRZ is the first car for you; many of the 86's pros apply:
Adequate power – depends on what car you compare it to. It won't provide the straight-line thrust for drag racing, but it will give a smooth rear-wheel-powered cornering that teaches you the thrill of conserving momentum.
Precise handling – probably the most fun-per-dollar you can have on four wheels.
Rear-wheel-drive – the BRZ is an affordably-priced RWD sports car that lets you learn the basics of car control.
Comfortable front seats – good for the driver and front passenger, but less for rear passengers. It's comfortable enough for daily driving.
Respectable fuel economy – compared with similarly-priced sports cars.
Compact – maneuvering the car feels effortless, and parking is easy.
Average upkeep costs – but tires will wear fast and are costly to replace if you have a lead foot.
Better tech and options than the 86.
The BRZ is fast enough to have fun but not enough to get you into trouble if you drive responsibly.
The Subaru BRZ isn't an ideal first car for most young drivers, but in the hands of an adequately-skilled and responsible driver with prior driving experience and a budget to match, it is a good first car.
Subaru BRZ or Toyota 86 (FRS) for a First Car
They share the same DNA, so their differences are minor, but:
The BRZ's base model is a tad more expensive than the 86, but prices vary depending on location and trim.
The BRZ has a firmer suspension setup than the 86, so you'll feel the difference more in longer drives.
The BRZ has slightly higher fuel efficiency, owing to its suspension setting.
The Subaru is more reliable; JD Power rated the 2017 BRZ at 82/100 and Toyota 86 at 78/100. However, reliability data for these models are patchy. Reliability between the two should be neck-and-neck, owing to their similarities.
Both are economical performance cars co-developed by Subaru and Toyota and have similarly average IIHS and NHTSA safety ratings.
The 86 and BRZ are reasonable first cars – your choice depends on brand allegiance.
From 2022 onwards, the GR86 succeeds the 86.
#3 Will the All-New Toyota GR86 Make a Good First Car?
Sports cars like the 86s are an emotional machine.
First-time car shoppers who consider an 86 primarily desire a simple rear-wheel-drive excitement of a sports car on a modest budget.
As the 86's successor, the GR86 remains a two-door, four-seat sports car like the 86 but comes with improvements on multiple fronts.
If the Toyota 86 appeals as a first car for an enthusiast, the GR86 exceeds it:
Dynamic and precise handling – the GR86 has exquisite road-holding capabilities.
Firmer suspension – pro or con, depending on its purpose. It may feel more dialed-in for the racetrack but less comfortable as a daily commuter than the Subaru BRZ.
A more powerful engine – Toyota ditched the 2.0-liter for a new 2.4-liter boxer engine, which is more potent than its earlier 86 siblings and the equivalent model year BRZ.
In the Toyota GR86 vs. Subaru BRZ battle as a first car and better daily commute, the BRZ wins with its more compliant ride.
However, drivers wanting creature comforts and amenities should look at a different segment.
Your Options for a First Car Besides the BRZ/FRS/86
The debate on the suitability of a sports car as a first vehicle will never end.
Any young driver drooling at the prospect of getting a new car would love a Toyota 86 or Subaru BRZ for the driving pleasure and coupe styling.
But budget-conscious buyers may opt for a regular sedan as a daily driver and get a sports car as a second vehicle for the weekend when it's affordable.
Excellent first cars and safe options include:
Toyota Camry, Toyota Corolla.
Honda Accord, Honda Civic.
Any used car with low mileage and strong resale value or high mileage with proven reliability.
You may be adamant about owning an 86 or BRZ but wish for a model without the drawbacks, in which case:
If you want roomier rear seats and cargo space, choose the Volkswagen Golf GTI or Hyundai Veloster N – they are front-wheel drives, though.
If you want a convertible top, go for the Mazda MX-5 Miata.
If you want more power and Toyota's reputation and have the budget to match, the Supra may be your go-to sports car – but then again, for a first car, you shouldn't.
Let's not get carried away.
References:
https://www.kbb.com/car-values/
https://www.iihs.org/ratings/vehicle/subaru/brz-2-door-hatchback/2020
https://www.nhtsa.gov/vehicle/2020/TOYOTA/86/2%252520DR/RWD
https://www.subaru.com/vehicles/brz/index.html