11 Electric Cars & SUVs for New Drivers (Updated 2023)
Electric cars may be slightly pricier than gas-only vehicles of equivalent size, but they are ideal for students, teenagers, and beginners because they eliminate fuel spending and perform better.
Further, they are relatively easier to run with fewer parts to maintain.
These EVs are some of the bests for new drivers – inexpensive and easy to drive.
Best Electric Cars for Teens & Beginners
#1 Chevrolet Bolt EV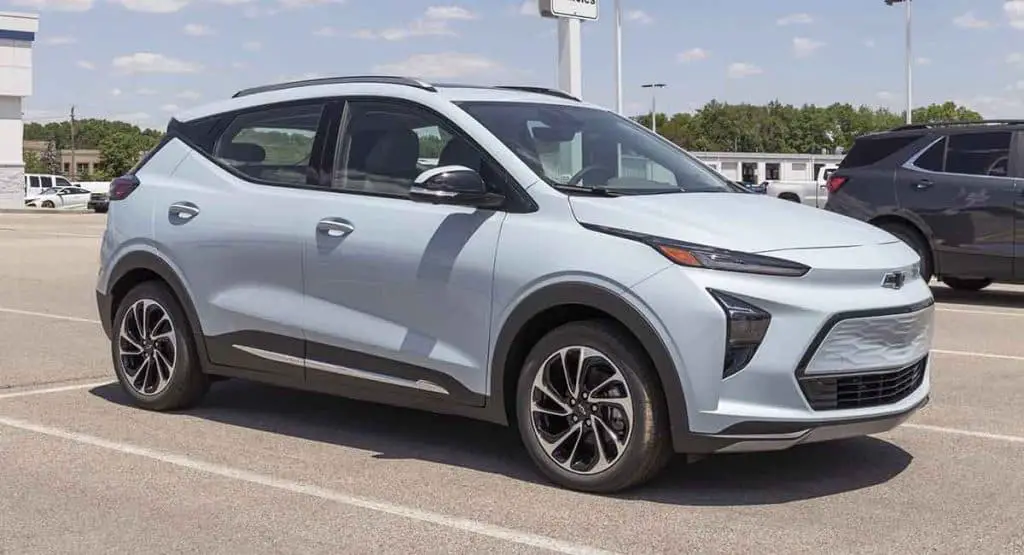 Fuel economy is a top priority for young drivers after an efficient gas-powered vehicle.
Likewise, the range matters the most for an electric first car, but 200-plus-mile-range EVs were available only to those with deeper pockets.
Fast forward to today, and you can get a Chevy Bolt EV (just north of $30k brand-new) capable of over 250 miles on a single charge, a match for the Tesla Model 3 that costs $15k more.
A Bolt EV takes around 10 hours to reach full charge on a 240-volt connecter.
With the Bolt's range, the occasional road trips are possible, and you rarely need to wait the total 10 hours for charging if your daily trips are short and you charge at least weekly.
Despite the diminutive size and tallish form, the car corners confidently due to the battery's low mounting – a massive plus when driving around town.
Once you get through those tall and wide doors, there is plenty of headroom and legroom, and seeing out of the Bolt is easy.
#2 Mini Cooper Electric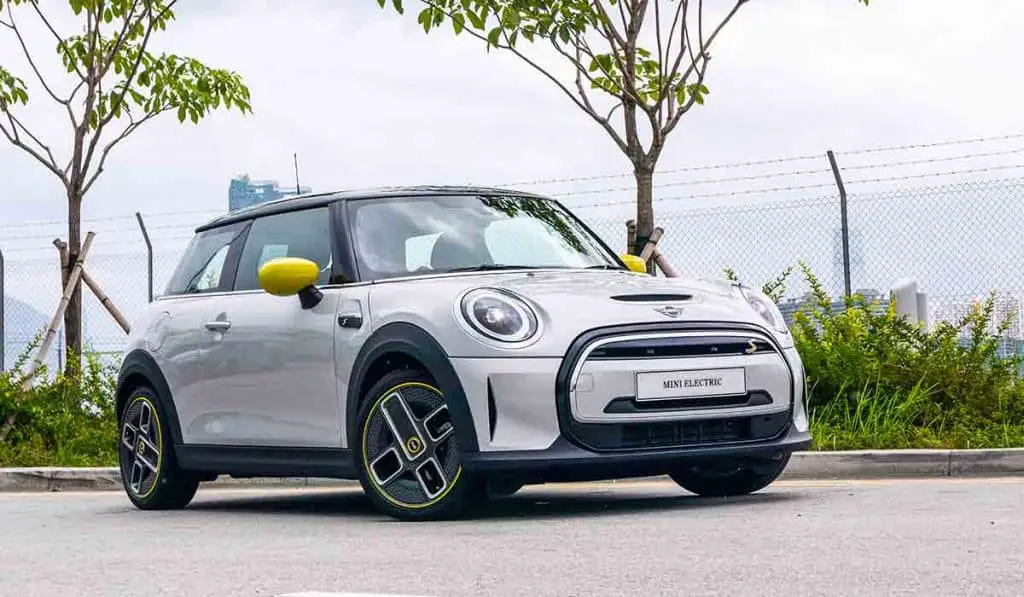 The Mini Cooper is a reasonably good but unique first car, especially for young drivers who desire its iconic look.
Fortunately for MINI enthusiasts, the marque has an electrified version of its highly-popular starter car, the latest 2-door model retailing at close to $30k.
On the downside, however, rivals beat the Mini Electric with the latter's subpar 150-mile range; it's adequate for short daily drives if you charge frequently, but long road trips will cause recharging concerns.
If the range isn't a bother, the Mini Electric will thrill with its quick acceleration and agile handling.
Plus, you get to brag about owning a cool, electrified Mini Cooper.
The Mini is small – very small – so interior room and cargo space come at a premium.
#3 Tesla Model 3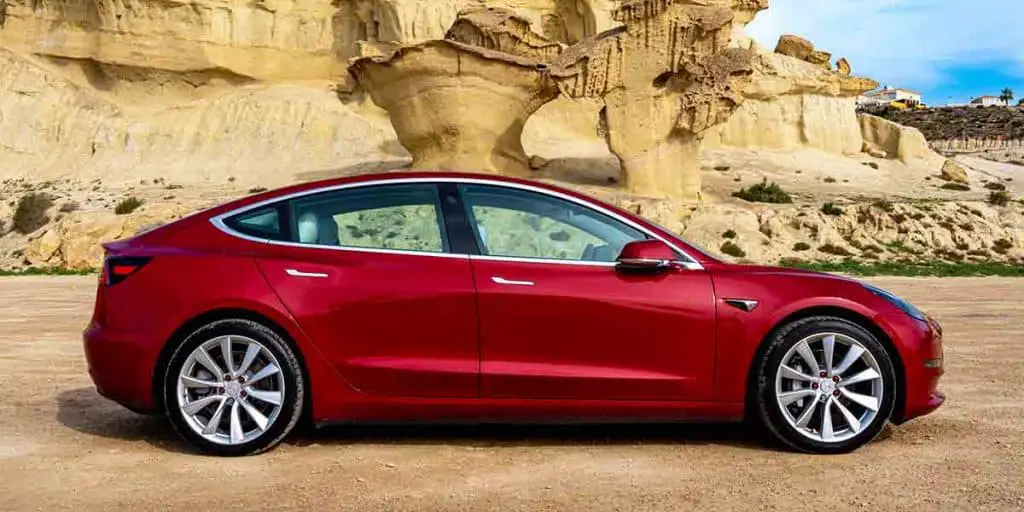 This list cannot be complete without a Tesla, and the Tesla Model 3 is the automaker's least expensive and most popular EV.
Still, the starting price of $47k for a brand-new Model 3 pushes it out of most teenagers' reach, as even the pioneering 2017 model isn't much cheaper (over $40k).
But for those who can afford one, the Model 3 has the performance capability to match its price tag.
It accelerates strongly and is engaging to drive, thanks to quick, precise steering and sharp reflexes through tighter turns.
The base trim gets you approximately 270 miles on a single full charge, although opting for the more expensive ($11k costlier) longer-range battery can extend the range to 350-plus miles.
The lack of an engine up front means a low hood and expansive visibility from behind the wheel, aiding ease of driving for beginners.
Best Electric SUVs for Students & New Drivers
#4 Mazda MX-30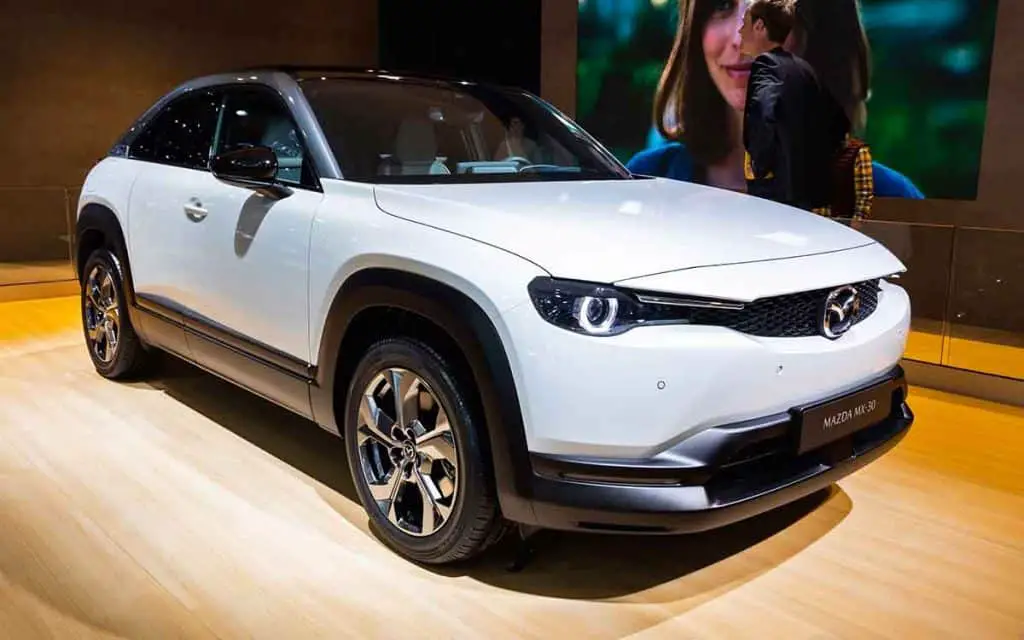 The MX-30 is Mazda's first foray into the EV world, based on the gas-powered CX-30 compact SUV.
Alongside the Chevy Bolt EV, the Mazda MX-30 is one of the cheapest electric first cars for new drivers, brand-new.
Like most Mazdas, the MX-30:
Is fun to drive with sharp and nimble handling.
Has an upscale and comfortable cabin.
Features most of the latest advanced tech and safety systems.
Crucially, the MX-30 can travel a modest 100 miles on a single charge – the shortest range among new electric cars – so the MX-30 is best for those who desire Mazda's renowned sporty handling but less so for going the distance.
Young drivers will need to wait a while longer for a less expensive Mazda electric car as the MX-30 only debuted in 2022.
#5 Hyundai Kona Electric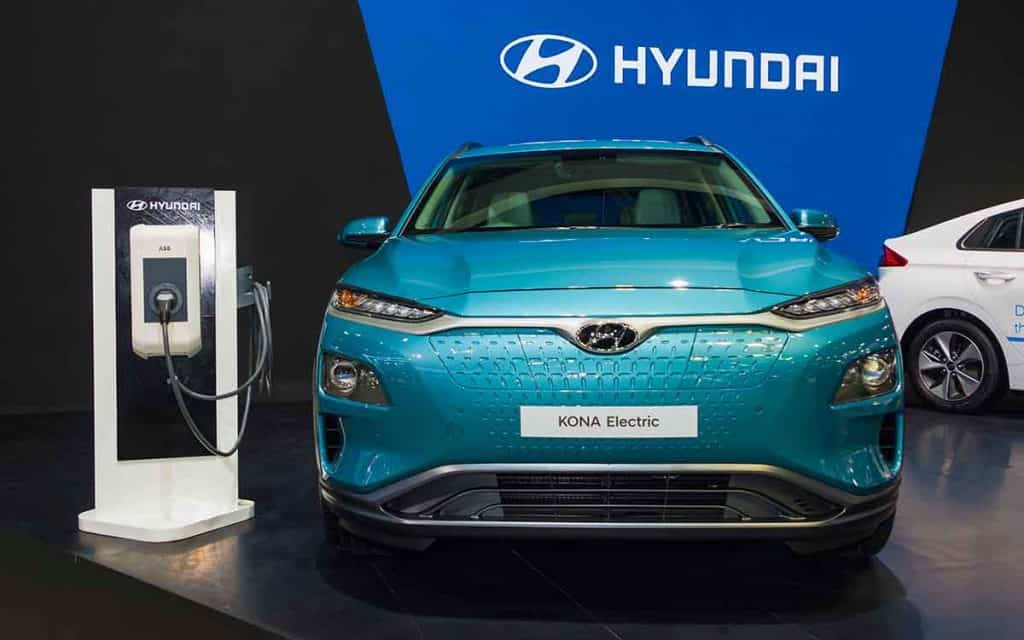 The Hyundai Kona Electric has one of the longest ranges among non-luxury EVs, clocking over 250 miles on a maximum charge.
It's an all-rounder that does what an excellent first car should, except for a remarkable all-electric range that helps you wean off petrol dependency:
250-plus miles range – only a few tens less than a standard Tesla Model 3, and sits near the top of the affordable EV segment.
Controlled and comfortable ride – the battery's low-slung mass helps immensely.
Near-silent ride – most EVs have quiet power units, but even highway noise is minimal in the Kona.
Elevated ride height for enhanced visibility.
Roomy interior up front – but expectedly less so for rear passengers; it's a compact SUV, after all.
Decent storage space – just short of 20 cubic ft. behind the rear seats, exactly like the gas-engine Kona.
Value-for-money purchase – many standard safety features plus Hyundai's industry-leading warranty coverage.
Its swift acceleration, diminutive dimensions, and improved driving dynamics due to the low-positioned, weighty battery mean the Kona Electric drives more like a hot hatch than a small crossover SUV.
#6 Kia Niro EV
If the Hyundai Kona Electric is an appealing choice for an EV first car, the Kia Niro EV should make your shortlist.
But if you find the Kona Electric slightly tight for space, the Niro EV will ably meet your needs.
While it shares many of Kona Electric's performance capability and fun-to-drive nature, more significantly, Niro EV has a more spacious interior – 115 cubic ft. vs. 111 cubic ft. – plus an impressive list of standard features for the money.
It rides quietly and comfortably for five, with sufficient head- and legroom in the back seats.
Plus, the near-250-mile range on a single charge puts it among the most efficient entry-level EVs.
Kia is Hyundai's cousin in the automotive world, and the extended warranty the former offers ensures peace of mind for longer.
#7 Volkswagen ID.4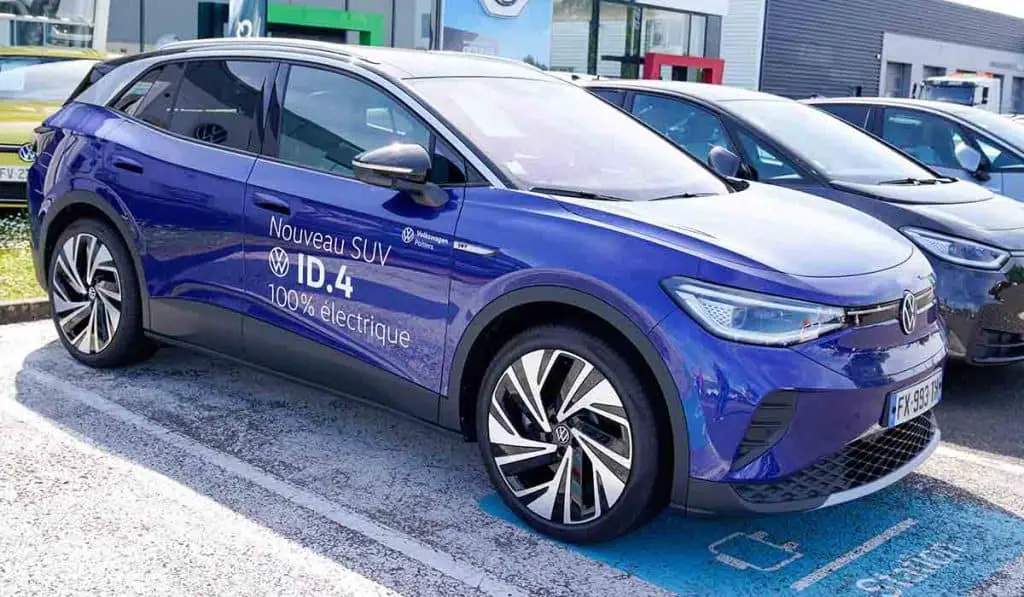 Although it is slightly cheaper than a Tesla Model 3, the Volkswagen ID.4 is one of the most expensive non-luxury electric cars, but it isn't without its value.
Essentially, it's a compact SUV but has a more substantial interior and cargo space than the Hyundai Kona Electric and Kia Niro EV, plus respectable EV performances:
Available AWD for enhanced four-wheel grip.
Impressive 280-mile range in the base RWD model – 250 miles with the AWD.
Spacious interior – 130 cubic ft. compares favorably to Kona Electric and Niro EV's sub-120 cubic ft.
Superior versatility – approx. 30 cubic ft. of storage behind the rear seats and over 64 cubic ft. with the seats folded.
Considering its size, the VW ID.4 is a remarkable compact SUV for a teenager's first car suitable for family-friendly duties.
#8 Hyundai IONIQ 5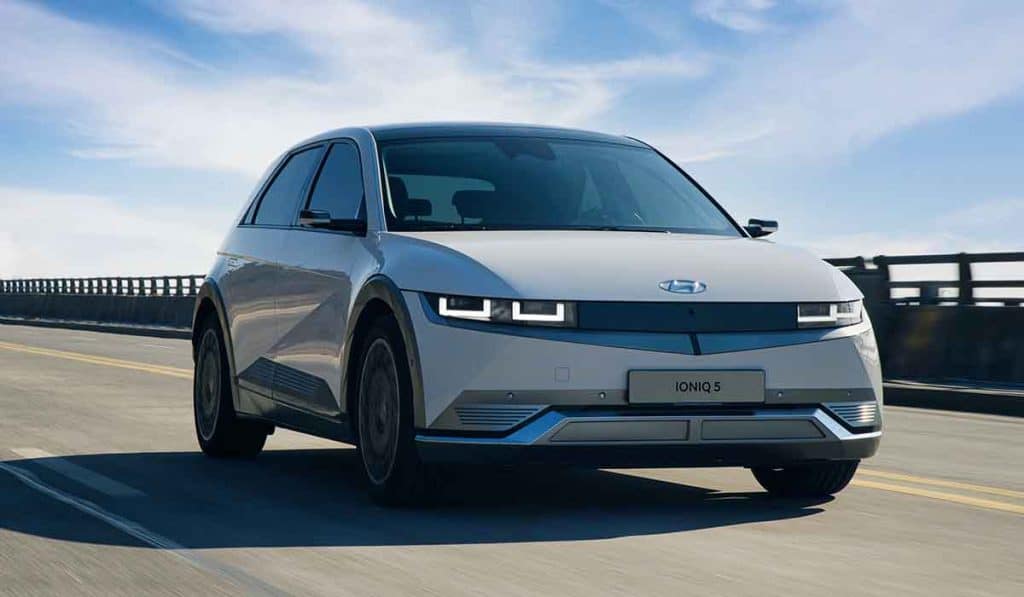 While the Hyundai Kona Electric derives from the regular gas-powered Kona subcompact, the IONIQ 5 is the Korean automaker's first model on an all-electric platform.
The IONIQ 5 is a small electric SUV, which is slightly larger than the Kona Electric and available at a few thousand dollars more.
Still, the Hyundai IONIQ 5 makes an excellent small electric SUV for teen drivers, with notable pluses like excellent forward visibility, a near-300-mile range (depending on the trim level), and great traction that complements the smooth power delivery.
You may pay slightly more for the dual-motor all-wheel-drive setup, but the enhanced grip on slippery pavements is ideal for inexperienced drivers.
#9 Kia EV6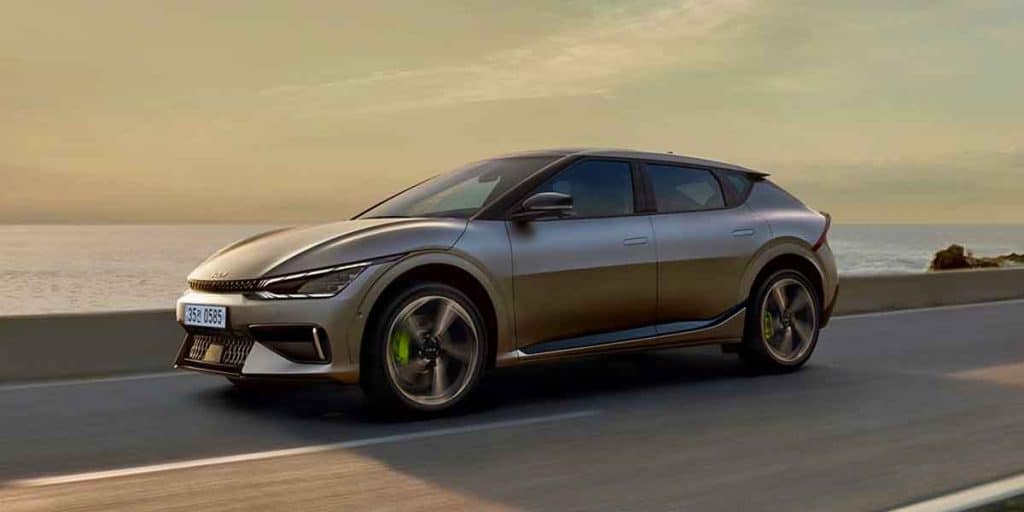 This Kia electric SUV shares tech similarities with the above-mentioned Hyundai IONIQ 5, exhibiting many positive first-car attributes like the latter.
Both get compatibility with ultra-quick public DC fast-charging stations, so you can replenish the battery after you leave home on a long journey.
One advantage the EV6 enjoys over the IONIQ 5 is its sportier demeanor and sleek styling that turn heads.
Although it accelerates rapidly with an EV-like torque, the EV6 is decidedly easy to drive and control around turns with its responsive steering, making it an enjoyable electric car for rookie drivers.
Cheap Electric First Cars (Used)
#10 Nissan Leaf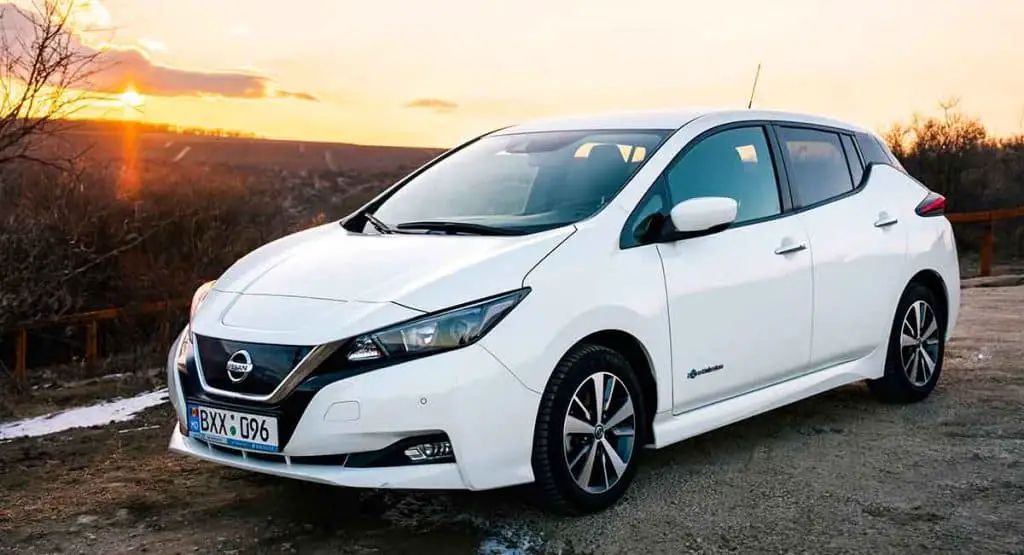 Although Tesla occupies the headlines with its cool-looking but relatively pricier EVs, Nissan produced the first electric car with a modest price tag, making it more accessible to budget-minded first-time drivers.
A brand-new Nissan Leaf sells for under $28,000, capable of nearly 149 miles on a single full charge.
For about $5k more, you could get the Leaf Plus trim with a larger battery that gets you a range of over 200 miles, significantly increasing your travel distance without worrying about running out of power.
The slightly elevated driving position provides good visibility, and the compact dimensions and turning circle of under 35 feet make the Nissan Leaf an easy car to drive for beginners.
Plus, the hatchback body provides plenty of cargo-carrying versatility.
A notable drawback is the 30-hour charging time on a regular 120-volt outlet, but the wait drops to 10 hours or less if you have a 240-volt outlet – those you use for water heater, clothes dryer, and oven.
First-car shoppers with a smaller budget should seriously consider a used first-generation Leaf (pre-2018) as their starter car.
At less than $10,000, the 2011 Nissan Leaf is the cheapest electric car for new drivers – you can find one as low as $7,500.
The first-generation Leaf is the earliest realistically-priced electric car, so the range is understandably low at an estimated maximum of 100 miles, depending on driving style, traffic, and battery age.
But if your daily commute involves short distances, the low range will do just fine, considering the inexpensive outlay and high fuel prices.
#11 Hyundai Ioniq Electric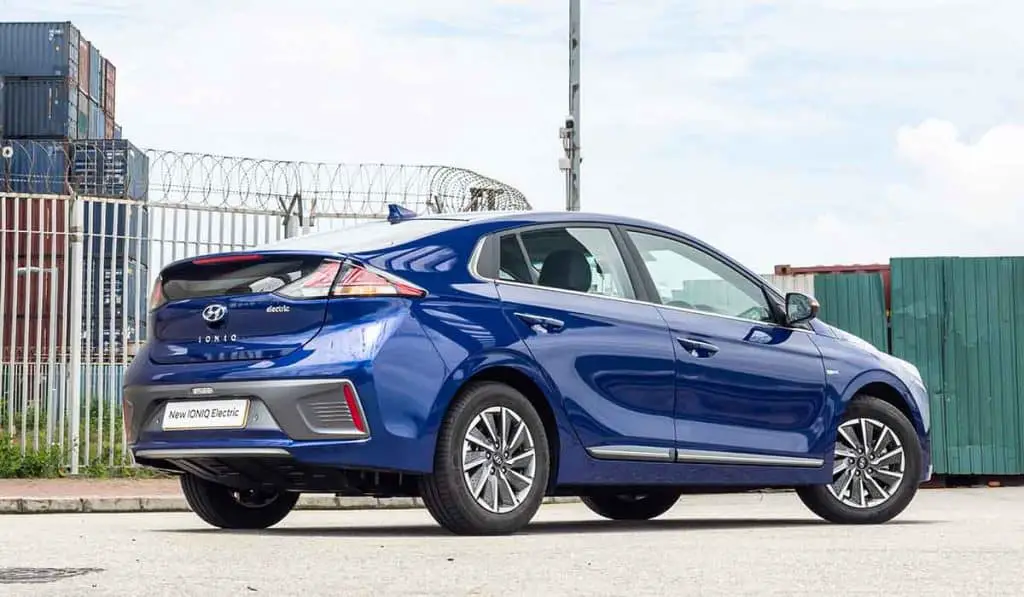 Hyundai Ioniq's presence in the US market didn't last long, spanning a mere four years since its debut in 2017.
Although it isn't as cheap as a used Nissan Leaf, the oldest Ioniq Electric is less expensive than most other EVs; it provides an alternative for college students after an inexpensive EV for their first car.
You can expect to fork out around $20k for a 2017 model, but its limited number compared to other EVs means finding one will take some effort.
Reasons to opt for the Hyundai Ioniq Electric include:
170-mile range – sufficient to satisfy most college students' daily needs.
Space utilization – the lithium-ion battery sits beneath the rear seats, freeing up room for cargo.
Inexpensive price tag, but the car carries plenty of driving aids and safety features helpful to an inexperienced driver.
The Ioniq Electric doesn't drive like a Tesla, but its light and relatively precise steering with decent performance levels will suit most first-time drivers looking for an easy-to-drive electric car.
References:
https://www.carsforsale.com/used-cars-for-sale
https://www.autotrader.com/cars-for-sale/