7 Senior-Friendly Electric Cars & SUVs (Updated 2023)
Electric cars have several positives for senior drivers; chief among them is the quieter drive without the hassle of refueling.
Despite the increasing number of EVs for a greater selection, entry-level models suit older drivers better with their affordable pricing, easy-to-drive nature, and reasonable performance levels.
But for those wanting a little excitement, the #7 on this list will not disappoint.
Best Electric Cars for Seniors
#1 Nissan Leaf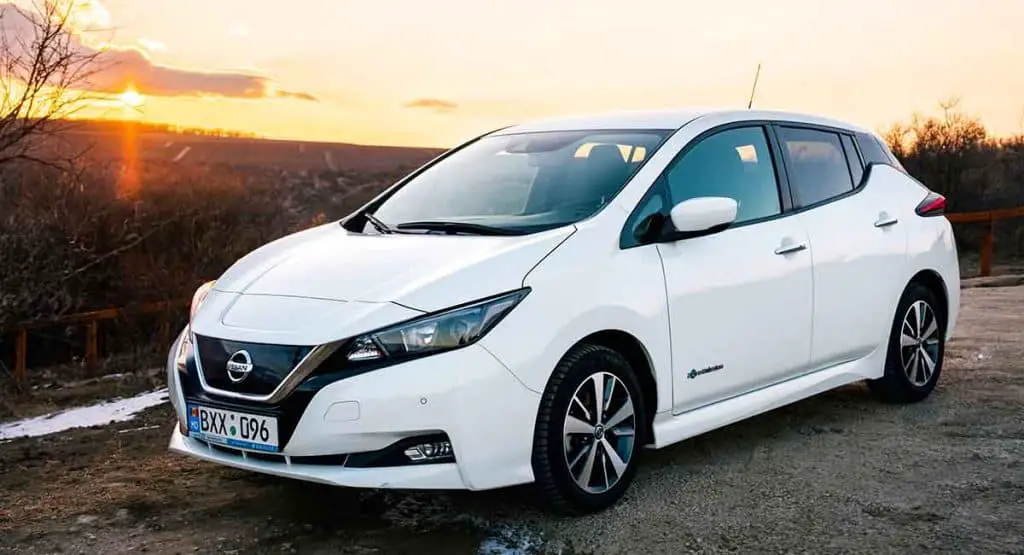 Body Style: Hatchback
Starting Price: $29,000
Affordable electric cars are in relatively higher demand due to their entry-friendly price tag, and this Nissan EV tops the list as the least expensive model.
Forget the pricey Tesla; Nissan has budget-minded buyers well covered.
Its under-$30k starting price is thoroughly affordable for an EV without sacrificing range.
Plus, the latest-generation Nissan Leaf (PLUS trim) can travel upwards of 200 miles on a single charge and is easy to drive with generous-sized windows providing good visibility, an excellent choice for an elderly-friendly electric car.
The slightly elevated driving position makes getting in and out more straightforward, and the compact dimensions and turning circle of under 35 feet lend the car easy maneuverability in tighter spaces.
The Leaf travels quietly and smoothly for five with plenty of headroom and legroom in both rows so that all occupants can feel comfortable on the longer journeys.
Crucially, this Nissan EV was the first realistically priced mainstream electric car when it debuted in 2011. You can find the first-generation Leaf for under $10k, so an inexpensive EV has now become highly accessible.
It's worth noting the pioneering model's estimated maximum range of 100 miles is low by today's standards.
But if your daily commute involves short distances, the low range will do just fine, considering the inexpensive outlay and high fuel prices.
#2 Chevrolet Bolt EV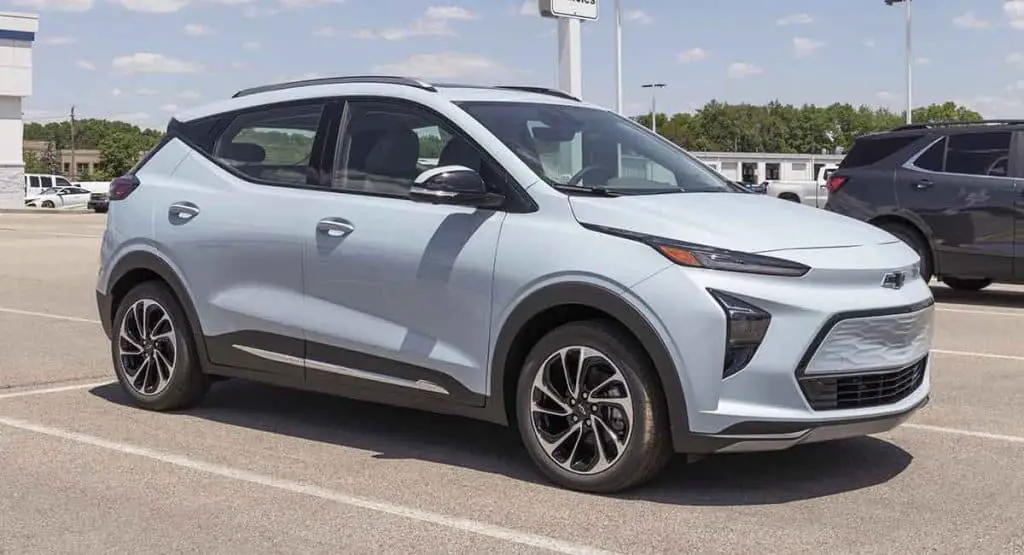 Body Style: Hatchback
Starting Price: $27,500
The time for transitioning to an electric vehicle is perfect now, considering the high prices at the pump and ever-lowering EV costs.
However, you aren't limited to Tesla-badged cars; nor do you have to settle for a cheaper model with a reduced range compared to the segment average.
Like Nissan, Chevrolet has an inexpensive electric car in the form of the subcompact Bolt EV.
More significantly, the Chevy Bolt EV is among the least expensive electric cars but has one of the better ranges for its class and price, a compelling pick for average-sized older drivers shopping after an extra-small EV.
The Bolt EV has the right qualities of an economical electric vehicle for an old couple:
Excellent all-electric range – over 250 miles on a single charge.
Low starting price – just north of $27,000 for a brand-new model.
Good visibility – marginally higher ride height than a conventional hatchback; aids entry and exit for elderly occupants.
Agile handling – light and easy to drive, especially in urban settings. The small turning circle of under 35 feet makes the car easy to maneuver in small areas.
Roomy cabin – slightly tight in width, but the tall roofline stretching to the hatch means you get plenty of head and legroom.
The incredibly short hood enhances forward vision immensely, and the diminutive dimensions are a massive plus for ease of driving.
Best Electric SUVs for Seniors
#3 Hyundai Kona Electric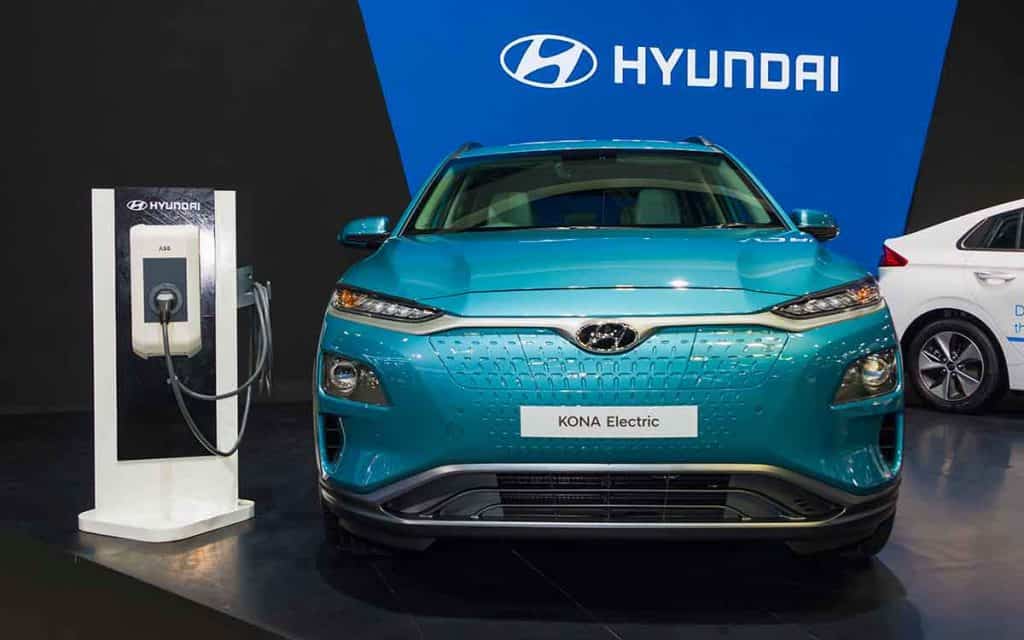 Body Style: SUV
Starting Price: $35,000
This Korean entrant is one of the more affordable electrified sports utility vehicles (starts at around $35k) – although it drives more like a hatchback than an SUV, thanks to its quick acceleration and agile handling.
The compact size and elevated ride height are positive attributes that make the Hyundai Kona Electric a suitable electric vehicle for senior citizens.
The underside is 6.2 inches off the ground, making this SUV one of the EVs with excellent ground clearance.
Forward visibility from the driver's seat is excellent, thanks to the slim roof pillars and generously-sized windshield and side windows.
EPA estimated the Kona to deliver over 250 miles, an impressive range matching the more expensive models.
Although it can seat a maximum of five, four occupants will fit more comfortably as the back seat is slightly short on legroom – the headroom is more accommodating, however.
For a senior couple not expecting to regularly ferry rear passengers, though, it's a non-issue.
Opting for a Kona Electric SUV gains you Hyundai's industry-leading warranty coverage and low running costs.
#4 Kia Niro EV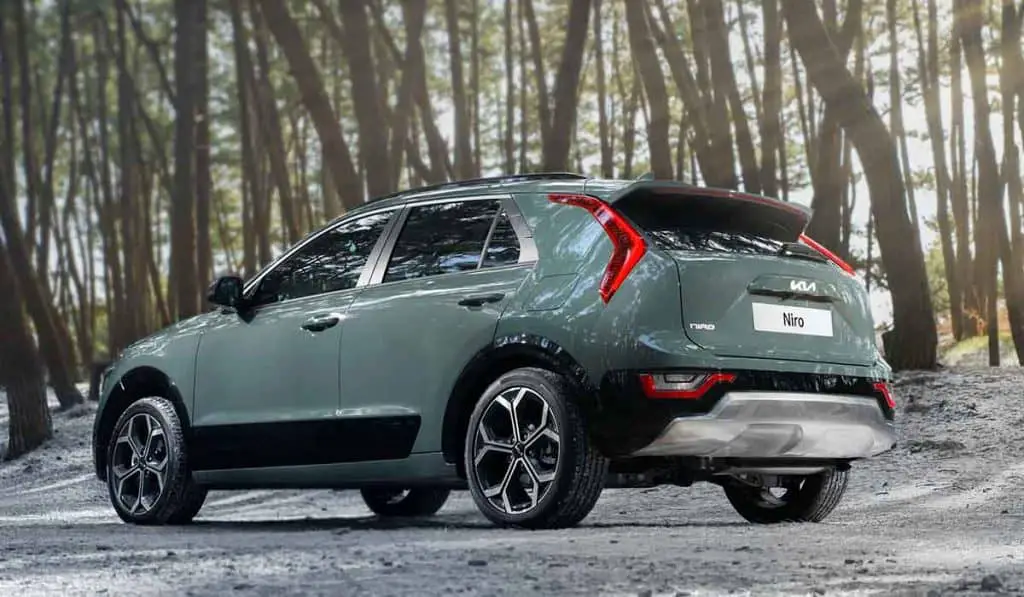 Body Style: SUV
Starting Price: $40,800
For taller or larger-sized seniors who find the Kona Electric's interior small, the Niro EV will better meet the needs for more room.
The Niro EV is an excellent electric SUV for seniors who prioritize a vehicle that lets them get in and out effortlessly, with its squarish door design plus slightly taller step-in height than the average sedan.
While it shares many of Kona Electric's performance capability and easy and fun-to-drive nature, more significantly, Niro EV has a more spacious interior – 115 cubic ft. vs. 111 cubic ft. – plus an impressive list of standard features for the money.
You pay several thousand dollars more for a new Niro EV (which starts at approx. $40k), but you get excellent real-world range and more storage room in a compact crossover body.
As with other Kia vehicles, the Niro EV gives you your money's worth:
A long list of standard features for the money – plus Kia's long-than-average warranty.
Over-200-mile range – EPA estimate stands at slightly under 250 miles, but it returned higher in real-world driving.
Spacious interior for the segment – front and back passengers enjoy good head and legroom room.
Easy to enter and exit with the squarish doors – a huge plus for seniors.
High cargo capacity for its size – 18.5 cubic ft; significantly more with the rear seats folded (over 50 cubic ft.).
Overall, the roomier and more refined interior justifies the extra outlay over a Chevy Bolt EV or Hyundai Kona Electric.
The Niro EV is truly an excellent small electric car for seniors after the slightly elevated height of a sports utility body.
#5 Hyundai IONIQ 5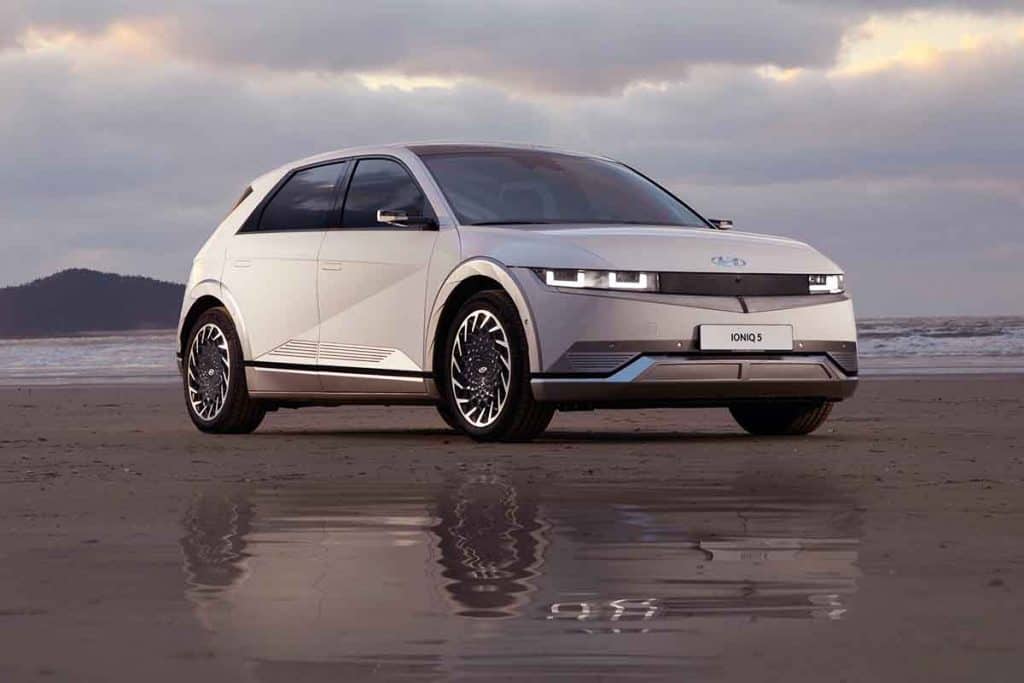 Body Style: SUV
Starting Price: $41,000
Not to be confused with the Ioniq electric hatchback, which Hyundai stopped producing after 2021, the IONIQ 5 kicked off the Korean automaker's unique line of IONIQ electric cars.
The IONIQ 5 is an electric SUV that Hyundai marketed as a premium model but with an attractive price tag that nears mainstream EVs, making it the best electric car for retirees desiring a cool ride in the entry-level luxury segment.
While its exterior is futuristic-looking, the interior looks more conventional, and the dual-screen navigation layout is straightforward to use.
You get plenty of space in both rows: the INOIQ 5 has one of the roomiest leg rooms for the driver and rear passengers.
Visibility out the front is expansive, although you may need the surround-view camera to assist with some rearward blind spots.
The IOIQ 5 offers two drivetrains: rear-wheel drive and all-wheel drive. The latter is the better choice for elderly drivers with its enhanced traction in wet-weather conditions.
Speaking of safety, the Insurance Institute for Highway Safety (IIHS) granted the IONIQ 5 the Top Safety Pick Plus award, the industry's highest accolade in vehicle safety.
#6 Volkswagen ID.4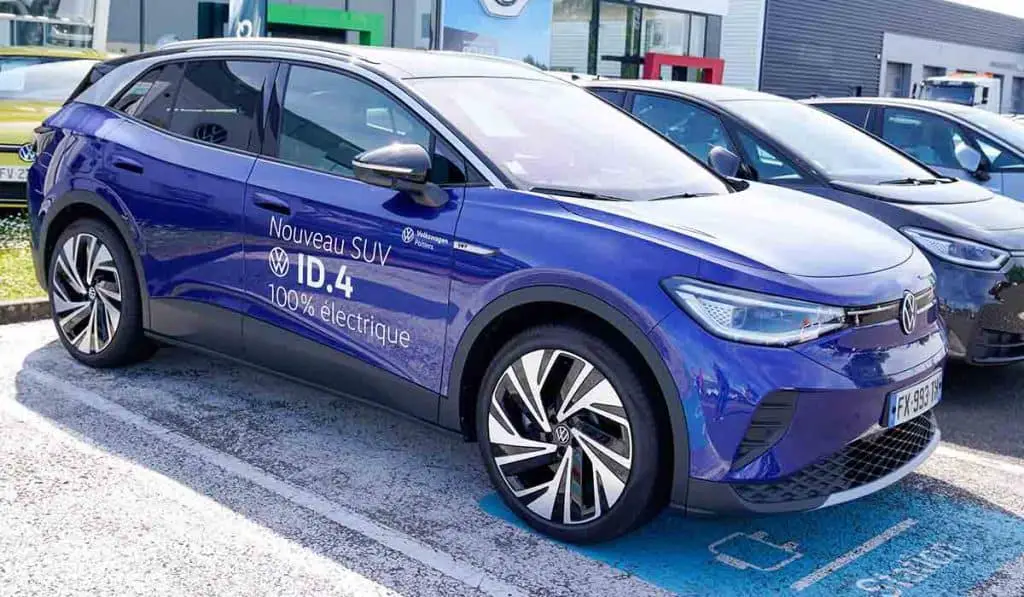 Body Style: SUV
Starting Price: $40,300
Although it is slightly cheaper than a Tesla Model 3, the Volkswagen ID.4 is one of the most expensive non-luxury electric cars, but it isn't without its value.
The Volkswagen ID.4 is an excellent electric car for elderly drivers, with a roomy interior and excellent visibility, thanks to the elevated ride height, large windshield, and a hood that slopes down dramatically.
It enjoys a substantial interior and cargo space advantage over the Hyundai Kona Electric and Kia Niro EV.
The ID.4's EV qualities that a senior will appreciate include:
Available AWD – enhanced four-wheel grip when the pavement gets slippery.
Impressive 280-mile range in the base RWD model – 250 miles with the AWD.
Spacious interior – 130 cubic ft. compares favorably to Kona Electric and Niro EV's sub-120 cubic ft.
Superior versatility – approx. 30 cubic ft. of storage behind the rear seats and over 64 cubic ft. with the seats folded.
Impeccable safety ratings – one of the best among EVs.
A vehicle's crashworthiness is crucial for safety, and the Volkswagen ID.4 SUV aced the Insurance Institute for Highway Safety (IIHS)'s evaluation by winning the organization's Top Safety Pick Plus award for consecutive years since its 2021 debut.
#7 Kia EV6
Body Style: SUV
Starting Price: $44,00
As one of the priciest EVs on the list, the Kia EV6 may not rank highly for most elderly drivers.
However, its athletic design and sharp steering are perfect for older but enthusiastic drivers who prioritize driving enjoyment behind a well-balanced vehicle.
The EV6 isn't as bulky as traditional SUVs, so its size lends easy maneuvering and the slightly elevated ride height makes getting in and out of the cabin effortless.
Comparison: How Well Do They Suit Elderly Drivers?
The table below lets you see how well each model in this post suit senior drivers and passengers.
Table Guide:
Visibility: excellent, good, average, poor.
Ride Comfort: excellent, good, average, poor.
Drivetrain: AWD = all-wheel-drive; FWD = front; RWD = rear.
Headroom, legroom: driver's seat measurements (inches).
Grd. Clr.: ground clearance (inches).
| | | | | | | |
| --- | --- | --- | --- | --- | --- | --- |
|   | Visibility | Ride Comfort | Drivetrain | Head-Room | Leg-Room | Grd. Clr. |
| Nissan Leaf | Good | Good | FWD | 41.2 in. | 42.1 in. | 5.9 in. |
| Chevy Bolt EV | Good | Average | FWD | 40.1 in. | 41.6 in. |   |
| Hyundai Kona EV | Good | Excellent | FWD | 38.0 in. | 41.5 in. | 6.2 in. |
| Kia Niro EV | Good | Excellent | FWD | 40.1 in. | 41.7 in. | 6.1 in. |
| Hyundai IONIQ 5 | Good | Excellent | FWD/AWD | 39.8 in. | 41.7 in. | 6.1 in. |
| VW ID.4 | Good | Good | RWD/AWD | 40.6 in. | 41.1 in. | 6.1 in. |
Comparison of electric cars suitable for seniors.
For senior citizens looking for the least expensive used electric car, the first-generation Nissan Leaf (2011-2017), with a price tag of between $6,000 and $18,500, is unbeatable.
But if the budget allows for a slightly pricier model, the Kia Niro EV is the best all-rounder of an electric vehicle for older drivers.
References:
https://www.carsforsale.com/used-cars-for-sale
https://www.autotrader.com/cars-for-sale/