12 Solid First Cars Under $10,000 (SUVs, Sedans, & Hybrids)
$10k is a fairly good budget for a used first car, with many excellent mainstream models of reasonable age and strong reliability for your selection.
The following used SUVs, sedans, and also some hybrid first cars of a certain age cost no more than $10,000.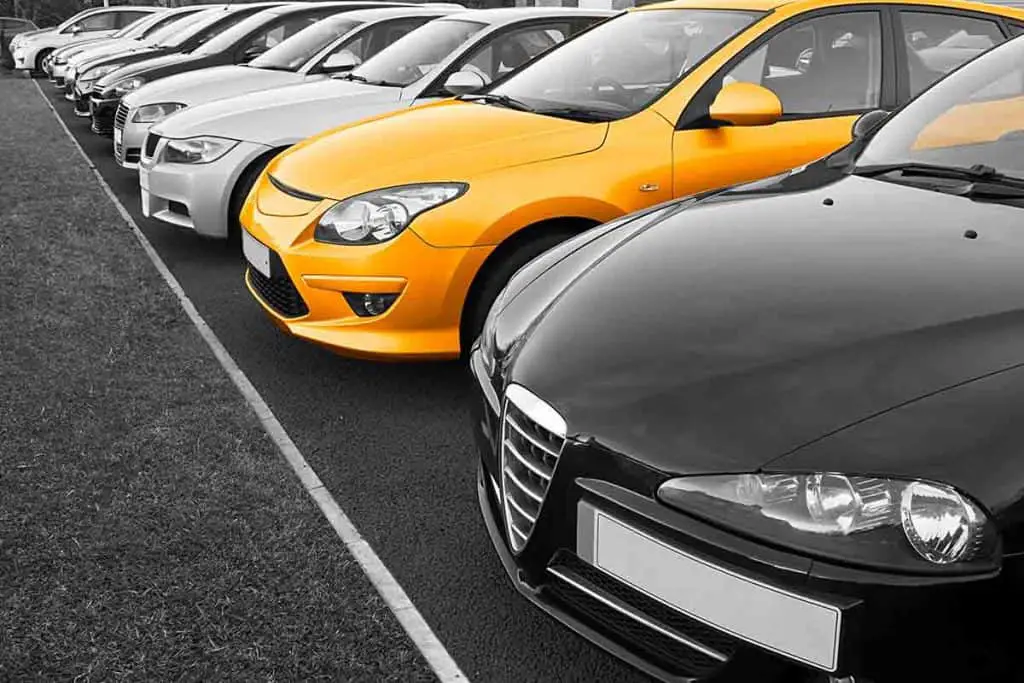 Good First Cars Under $10k (Sedan)
#1 Toyota Corolla
If you want the most durable first car for $10,000, opting for the famous nameplate, famed for its rock-solid reliability, is wise.
After more than half a century of serving budget-minded drivers and dominating the American roads with record numbers, the Toyota Corolla remains a solid choice for teenagers and the freshly licensed.
The Corolla's enduring first-car qualities are reassuring:
Strong fuel economy – as the latest gas models inch towards the mid-30s-mpg average, older Corollas are almost as thrifty; 29-mpg combined is the lowest figure among the models of the past two decades.
Comfortable ride – the Corolla is one of the softer-riding economy compacts.
Good visibility – crucial for safety and ease of driving.
Many safety features – the offerings differ depending on the model year, but it's typically on par with class leaders.
Solid reliability – with the number of generations that stretches into the double-digit, you know it's dependable.
Excellent safety ratings – it is an impeccably safe first car.
Corollas typically do not have the most powerful engine in the segment, but it shouldn't concern most first-time drivers.
Due to their durability, used Corollas – as long as you verify the condition before buying – are inexpensive and will continue to be dependable:
A ten-year-old standard Corolla sells for around $10,000 – those in excellent condition and low mileage may cost a couple of thousands more.
A fifteen-year-old model costs under $7,000.
#2 Hyundai Elantra
It isn't as famous as the Toyota Corolla or the Honda Civic, but the Hyundai Elantra has many strong points that can match its Japanese rivals for less.
These Elantra qualities make the car an excellent value-for-money purchase:
Outstanding fuel economy – the latest generation leads the segment in efficiency, although the sixth and fifth generations are plenty frugal.
Large cabin and trunk – regularly class-leading in both areas.
Good balance between ride quality and handling.
Lots of tech and safety features for the money.
Long warranty – although extended coverage may be necessary when buying a used model.
A used Elantra is marginally cheaper than a Corolla of similar age:
You can get a ten-year-old Elantra for less than $9,000 – even less is possible, depending on your location.
A $7,000 budget may suffice for a fifteen-year-old model – but with the caveat below.
If fuel economy is your top priority, choose a used Elantra from the sixth generation (2017-2020) or the fifth (2011-2016) as prior models' gas consumption is higher than leading competitors.
Elantras of the past decade are among the most fuel-efficient first cars with distinctive styling.
#3 Honda Accord
The Honda Accord is consistently a strong contender for the king of the midsize class title, offering compelling performance, quality, and economy in a robust package.
The Accord's strong suits will please new drivers needing a midsize sedan for their first car:
Powerful yet fuel-efficient engine – 25 to 33 mpg overall, depending on the model year of the past fifteen years.
Sporty handling – provides a better feel of the road.
Class-leading interior and cargo space – handy for college students, the occasional road trips, or if you do regular grocery shopping.
Many driver safety aids.
Good visibility – older models score excellently in this aspect.
Near flawless reliability – a thoroughly dependable first car.
High resale value – excellent news for a used Accord if you keep your car in good repair and sell after a few years when upgrading.
A $10k budget cap can get you:
A ten-year-old (or slightly older) standard Honda Accord.
A twelve-year-old Accord with a V6 engine – sacrifices 2 to 3 mpg compared to the base model.
The Honda Accord's lack of significant drawbacks makes it an easy recommendation for young drivers looking for a roomy, comfortable, and efficient four-door sedan.
#4 Mazda 6
If you want to ride in class compared to other mainstream sedans without spending a premium, the midsize Mazda 6 is a charismatic pick that oozes an abundance of interior quality.
Its sporty driving dynamics offer a composed ride and boundless enjoyment behind the wheel.
Although 2021 is the final model year, a used Mazda 6 is still a stand-out choice for several reasons:
A unique combination of style and performance – sleek design, strong engine, and athletic handling.
Plenty of grip – the communicative steering provides a reassuring feel of the road.
Premium-quality interior.
Some features it lacks include a hybrid model for higher efficiency and all-wheel-drive for drivers in cold-weather climates.
Still, a $10k used Mazda 6 is a solid first car for those who enjoy driving.
The Mazda 6 proves that practical need not be synonymous with dull.
#5 Nissan Maxima
The Nissan Maxima is worth considering for young male drivers who desire a four-door car with sports sedan qualities for a reasonable price.
It has a 300-hp V6 powertrain, sharp handling, and an attractive cabin that rivals luxury sedans.
Considering the engine specification and power output, the low 20s-mpg average fuel consumption is reasonable. However, the use of premium gas may nudge young enthusiasts towards a less powerful V4 in a Toyota or a Honda.
A $10k budget can buy a used Nissan Maxima of ten or twelve years old.
Good First Cars Under $10k (SUV)
#6 Subaru Forester
Knowledgeable car shoppers recognize Subaru's unique proposition with the standard all-wheel-drive (AWD) provision in their vehicles, bar the rear-wheel-powered Subaru BRZ coupe.
Besides AWD, the Forester has:
Impressive fuel economy despite the four-wheel power delivery – between low-20s-mpg and 29 mpg combined, depending on the model year.
Excellent visibility – applicable to all model years, especially the older, boxier ones.
Spacious interior and storage.
Good ride comfort.
Immaculate crash safety record – the safest first car among SUVs.
Underwhelming engine power is Forester's only notable flaw in an otherwise solid SUV.
With a $10,000 allocation, a ten-year-old standard-trim Subaru Forester is within reach, although opting for a two-year-older model can save you a further couple of thousand dollars.
The Forester is easy to drive, and the controls are straightforward to use.
#7 Honda CR-V
The Honda CR-V has staked the claim as the king of compact SUVs for several years with its all-around compelling performance, utility, and efficiency package.
Honda CR-Vs – new or used – typically have these attributes:
Powerful yet thrifty engine – expect mid to high-20s-mpg in decade-old models.
Roomy interior with high cargo capacity – often the largest in its class.
Handles athletically, yet the ride stays composed and comfortable.
Good visibility.
Excellent safety ratings.
Top-notch reliability.
Plenty of standard features.
Due to CR-V's substantial resale value, a $10k budget means you will need to settle for a twelve-year-old model – or potentially older.
Still, they are highly durable vehicles, so a used CR-V past the decade-old mark should present no significant reliability worries.
#8 Toyota RAV4
As Toyota Corolla and Honda Civic compete in the compact sedan segment, the RAV4 contends with the CR-V as the most competent and best-selling small SUV.
While the RAV4 isn't as sporty as the CR-V, the former has plenty of other first-car qualities to offer new drivers:
High fuel efficiency – on par with rivals from Honda and Hyundai.
Large and versatile cargo area – neck-and-neck with the CR-V; it's one of the most spacious in the segment.
Smooth ride and comfortable for long journeys.
Many advanced safety and driver aids are standard.
Top safety ratings.
High reliability – backed by Toyota's low maintenance costs.
Like the CR-V, the RAV4 holds its value well, so $10,000 can net you a twelve or thirteen-year-old model, condition-dependent.
#9 Hyundai Tucson
Hyundai vehicles are good first cars because they offer excellent value for money.
The compact Hyundai Tucson SUV is no different, with a feature-rich offering and industry-leading warranty coverage to complement its first-car qualities.
They include:
Strong fuel economy – a match for the class leaders like the CR-V and RAV4.
Top safety scores – it won many IIHS safety awards, except for a few years.
Comfortable ride, even on rough surfaces.
Mediocre cargo capacity – less than most rivals.
Feature-packed.
Generous warranty length.
As Hyundai vehicles' resale values aren't as high as the Toyotas and Hondas, you can get a nine or ten-year-old Tucson for $10,000.
Good First Cars Under $10k (Hybrid)
#10 Chevrolet Volt
Hybrid vehicles are ideal for teens and new drivers because they bridge the efficiency gap between gas engines and all-electric power units, but without the latter's higher initial outlay.
Although discontinued after the 2019 model, the first-generation Volt (2011-2015) is an excellent buy for budget-conscious young drivers, thanks to its near-100-mpg-equivalent mileage.
With a maximum budget of $10,000, you can get a 2012 or 2011 Chevy Volt.
Alternatively, suppose you could afford a bigger budget; the second-generation Volt (2016-2019) is unique because its hybrid drive system can run on electric-only power, unlike other hybrid powertrains that use gas+electric full-time.
With over 50 miles of all-electric range, the car can operate on battery power alone before switching to gasoline.
If your daily commute is shorter than that, you can save massively on fuel costs.
#11 Honda Insight
The Honda Insight is a compelling choice if you want an economical used hybrid vehicle – a capable rival to the Prius.
Its fuel efficiency is competitive among hybrids, and the car meets the first-time driver's needs:
Impressive fuel economy – over 50 mpg combined in the latest model, although decade-old Insights can still return above 40 mpg.
Roomy and refined interior.
Good visibility.
High safety ratings.
The second-generation Insight (2010-2014) is an excellent buy, although the earlier models of that generation will better suit your $10k budget.
#12 Toyota Prius
The Toyota Prius is the go-to choice if you want the most fuel-efficient hybrid for your first car.
With decade-old Prius models, you still get 50-mpg overall (or more), class-leading efficiency, and a solid performance even by today's standards.
Crucially, Prius models of that age fit nicely within your $10,000 budget.
Besides the outstanding fuel economy, the Toyota Prius is:
Easy to drive,
Comfortable to ride in a quiet cabin,
Practical with its hatchback-like body, and
Has good outward visibility.
A used Prius is inexpensive and will save you more money than you'll otherwise spend on a gas-powered car.
References:
https://www.carsforsale.com/used-cars-for-sale
https://www.autotrader.com/cars-for-sale/