Is the Corvette a Good First Car? (C3, C4, C5, C6 + More)
Corvettes have a long and proud sports car legacy.
The Chevrolet Corvette is an exciting ride many car guys would love to get their hands on, but many of the qualities the Corvette possesses work against it as a first car.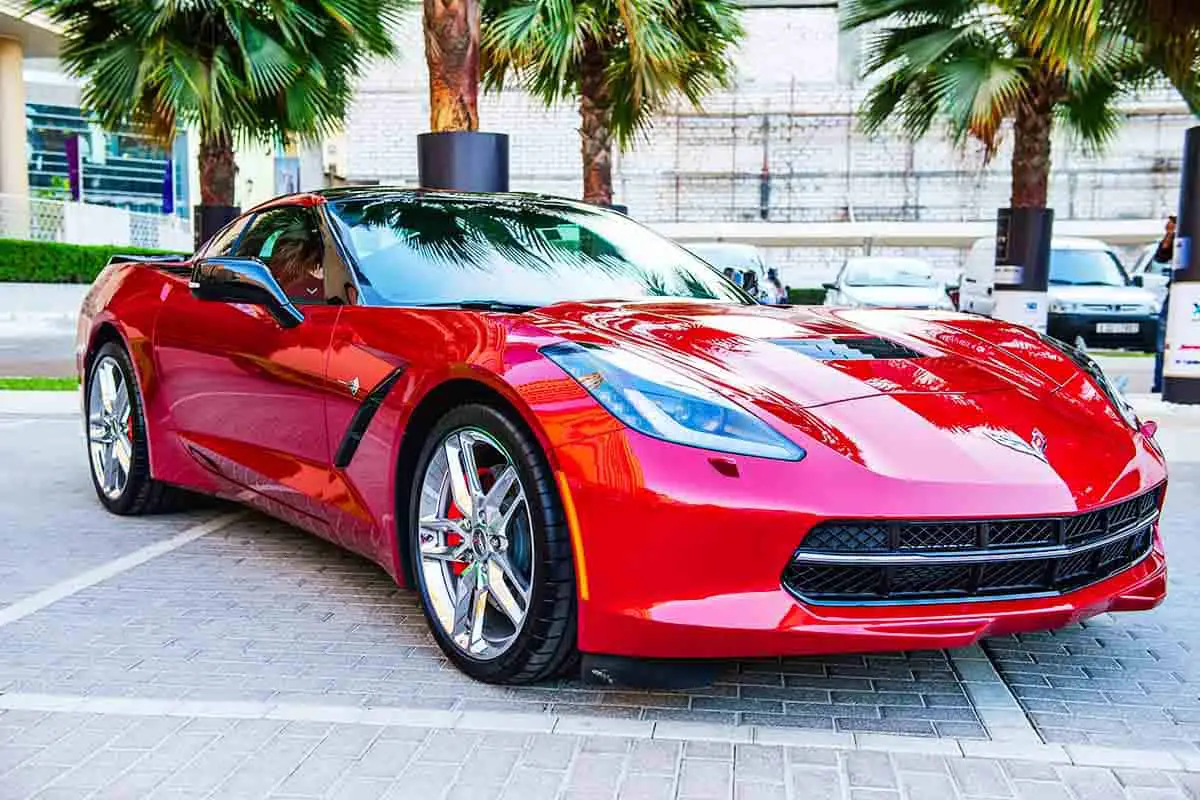 7 Reasons a Corvette Is a Bad First Car
The severity of the Corvette's drawbacks as a first car varies.
#1 A Gas Guzzler
There is no getting away from paying large sums of money for gas every month if you daily drive a Corvette.
A 2020 Corvette returns 19 mpg combined.
Depending on engine size, a 2010 C6 Corvette can achieve between 16 to 19 mpg combined.
It is reasonable to expect older Corvette Stingrays to have poor gas mileage.
Relishing the prospect of owning a Corvette is exhilarating, but you will feel the pinch when the excitement wears off and you start paying at the pump.
#2 Fairly (to Prohibitively) Expensive for a First Car
Chances are you are considering getting a used Corvette for your first car.
Still, the purchase price is high and is consistently 3x higher than most used sedans of similar age.
Let's compare the Corvette to the affordably-priced Honda Civic to see why the former is too costly for car buyers in their teens.
The maximum reliability score is 100, and 80 is a good average; from JD Power.
| | |
| --- | --- |
| Model Year | Selling Price |
| 2022 Corvette | from $60,500 |
| 2022 Civic | from $22,000 |
| 2013 Corvette (C6) | from $36,000 |
| 2013 Civic | from $11,000 |
| 2001 Corvette (C5) | from $4,500 |
| 2001 Civic | from $1,050 |
Chevy Corvette price comparison with the Honda Civic.
At this young age, a lower-priced vehicle may work better as it will also be cheaper to maintain, and, if extensively damaged, it won't hurt as much to discard the car and buy another.
#3 Excessive Horsepower Breeds Bad Habits
An eager-revving teenager and 300-plus horsepower V8s (or above 400 hp in newer Corvettes) can encourage poor road behaviors.
You may feel tempted to floor the accelerator when your right foot can sense the extra power the engine has in reserve.
High speeds do not necessarily cause accidents, but vast speed differences between vehicles can.
It takes time to cultivate calmness and improve skills behind the wheel.
The Corvette's very-capable engine doesn't quite lend support to that learning process.
#4 Costlier to Maintain than Most Daily Drivers
A non-standard car will typically be more expensive to maintain.
Unsurprisingly, a sports car like the Corvette will cost you more to service and repair – unless you're a car guy that services his own vehicle.
RepairPal estimated the Corvette's annual maintenance costs at $737, an average that includes repairs.
$526 is the average for midsize cars and $652 for all vehicles.
Note that the industry average for popular coupes is below $700 per year.
#5 Inconsistent Reliability History
The Corvette's reliability throughout its long model year history is patchy.
The average score across its model years is mediocre, with a trend towards declining reliability in newer ones.
The figures below come from JD Power; the maximum reliability score is 100, and 80 is reasonably average for most vehicles.
| | |
| --- | --- |
| Model Year | Reliability |
| 2019 Corvette | 77/100 |
| 2018 Corvette | 79/100 |
| 2017 Corvette | 78/100 |
| 2016 Corvette | 81/100 |
| 2015 Corvette | 78/100 |
| 2014 Corvette | 82/100 |
| 2013 Corvette | 80/100 |
| 2012 Corvette | 81/100 |
| 2011 Corvette | 84/100 |
| 2010 Corvette | 84/100 |
Chevy Corvette model years comparison.
More importantly, your car's reliability will rely heavily on your maintenance regime.
#6 Pricey to Insure
Teenage drivers in high-horsepower cars are typically expensive to insure.
It shouldn't come as a surprise, but more crucially, insurance is a significant and ongoing cost component for young drivers.
Expect the average full coverage rate for 16-year-old drivers is over $6,200 per year.
The rate lowers for older teenagers, but not by much – $5,900 for 17-year-olds and $5,600 for 18-year-olds.
The insurance price you pay varies, depending on the car's model year and location.
Newer Corvette models for a 16-year-old in expensive zip codes may exceed $10k a year for full coverage.
#7 Low Ground Clearance
Sports or high-performance cars are generally low-slung vehicles for a lower center of gravity, aerodynamic efficiency, and cornering stability.
This sleek-looking design does not work as well for a daily driver needing to negotiate speed bumps and humps on city roads.
Inexperienced drivers are more likely to curb-crash or misjudge the apex of a curbed corner, damaging the car's bodywork.
Further, with the estimated 55 million potholes in America's roads, encountering one by accident is a matter of when, not if, leading to more costly bills.
Bodywork repairs and repaints, including touch-ups, add to your maintenance costs unless you can accept your sweet ride looking less-than-perfect.
Corvette's Positive
Although the Corvettes have many drawbacks as first cars, it is worth mentioning that it holds value well.
Assuming you own a brand-new Corvette, it depreciates approximately 35% after a five-year duration.
That is excellent value retention when most new road-going cars fall within the 50% to 60% depreciation window in the same period.
It is not surprising considering the Corvette's legendary status alongside some other sports and muscle cars in America.
If you happen to buy a Corvette later in life, at least you know that you won't lose much when reselling.
What About Specific Corvette Models?
The Corvette models most first-time car owners look for are:
C3 Corvette – 1968 to 1982 model years (a.k.a. Stingray).
C4 Corvette – 1984 to 1996 model years.
C5 Corvette – 1997 to 2004 model years.
C6 Corvette – 2005 to 2013 model years.
And the newer Corvettes include:
C7 Corvette – 2014 to 2019 model years (a.k.a. Stingray).
C8 Corvette – 2020 onwards (a.k.a. Stingray).
If a Corvette is a poor choice for a first car, going specific with any model year doesn't change that.
The newer V8s spit out more than 450 hp and older C4 Corvettes still pump out a beginner-unfriendly 300-plus horsepower.
If you must know the best Corvette for first-time buyers, the older model years are comparatively better as first cars as they show stronger reliability and are less powerful.
Still, maintenance costs should be a significant concern when buying decades-old vehicles.
Whom Might the Corvette Suit for a First Car?
The extra performance a Corvette generates isn't within the range most inexperienced or lesser-skilled drivers can handle ably and responsibly.
But to reject the Corvette outright as a first car for all teenagers is to assume all drivers are cut from the same cloth.
Generally, a Corvette isn't a suitable first car, except for:
Drivers of higher competence – some are more naturally-gifted behind the wheel than others. Still, there's a learning period.
Drivers capable of and love car repairs – if you can fix problems and maintain the car yourself, you save massive sums when you don't have to pay for an expensive mechanic. Further, if you are a DIY car person, you're more likely to take extra care when driving it.
Drivers who aren't into Corvettes to flaunt – some owners genuinely love their ride for its driving dynamics and enjoy the opportunity to work on their vehicle.
Most teenage drivers don't fit these descriptions.
For any young driver with lower or higher skills, the long road of maturing as a driver lies ahead; some learn quicker, others need more time.
Dents, scratches, and repairs are unavoidable, but responsible drivers can minimize them.
If you have your heart set on a Corvette, it'll be a challenge to convince you otherwise.
However, some alternatives may be a better first car worth considering.
Comparison: Alternatives to a Corvette for a Teenager's First Car
These cars have more performance than the regular daily drivers but are less powerful and cheaper than the Corvette:
Honda Civic Si
Hyundai Veloster
The BRZ and Miata aren't Corvette, but they can still excite and serve practical driving needs reasonably well.
Let's see how they stack up against the Corvette.
The Corvette has a long history, and the model year you're considering may be a very old one.
Specifications and figures vary between model years, so this comparison bases on each car's 2013 model year.
Table Guide:
Horsepower: (base model).
Fuel Economy: mpg combined (base model – manual).
Maintenance Costs: per year avg. (RepairPal).
Safety (IIHS): 1 (poor) to 4 (good); IIHS tests average.
Safety (NHTSA): 1 (poor) to 5 (safest); NHTSA overall.
Visibility: excellent, good, average, poor.
| | | | | | | |
| --- | --- | --- | --- | --- | --- | --- |
|   | Horsepower | Fuel Econ. | Maint. Costs | Safety (IIHS) | Safety (NHTSA) | Visibility |
| Chevy Corvette | 430 hp | 17 | $737 | NA | NA | Average |
| Subaru WRX | 230-271 hp | 23 | $682 | 4/4 | 5/5 | Good |
| Subaru BRZ | 205-228 hp | 24 | $672 | 3.8/4 | NA | Good |
| VW Golf GTI | 210-228 hp | 27 | $791 | 3.8/4 | 5/5 | Good |
| Mazda Miata | 116-181 hp | 29 | $429 | NA | NA | Average |
| Honda Civic Si | 197-205 hp | 30 | $368+ | 4/4 | 5/5 | Good |
| Hyundai Veloster | 138-147 hp | 31 | $493 | 3.4/4 | NA | Average |
2013 Corvette comparison with other high-performance vehicles.
The Subaru WRX, Subaru BRZ, MX-5 Miata, Civic Si, and Veloster better the Corvette in gas mileage and maintenance costs.
Plus, they aren't as expensive for a first car and won't hurt as much if wrecked.
If you want a relatively affordable choice with good gas mileage, excellent visibility, and more horsepower than regular sedans, opt for the Civic Si.
Still, it may be wise to choose a 'lesser' and more economical car for your first ride – a used four-cylinder sedan or compact car like the Honda Civic – and save for a Corvette.
High-performance cars are excellent second vehicles after you clocked some years of driving experience under your belt.
References:
https://www.kbb.com/car-values/