12 Budget First Cars Under $5,000 (SUV, Sedan, Hatchback)
Teenagers and first-time drivers with a $5,000 budget can still get good first cars, although only older models are within range.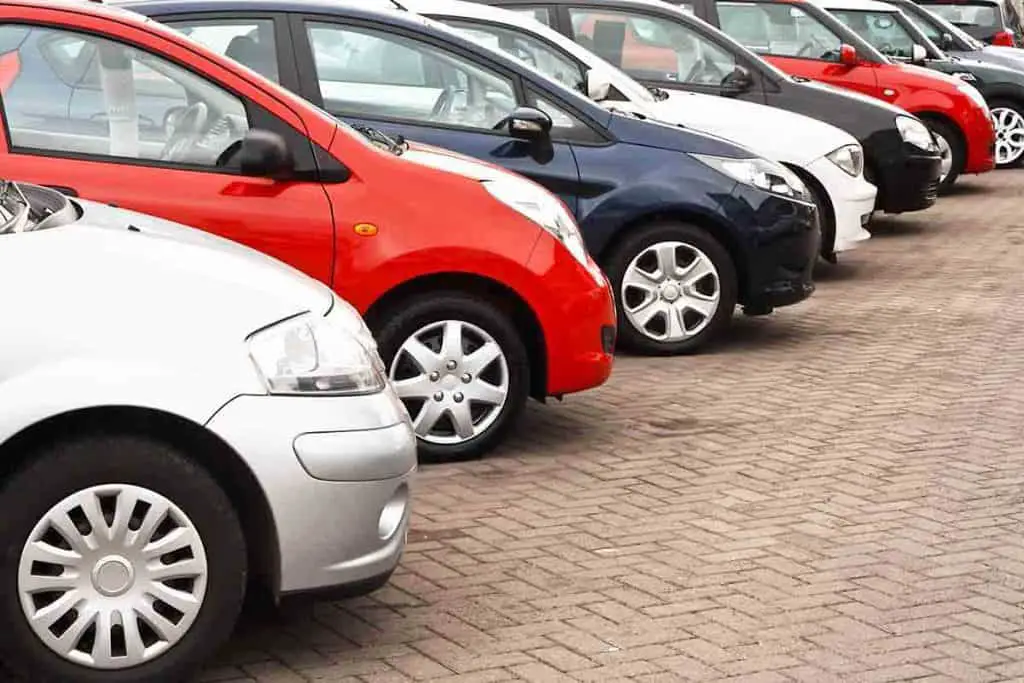 Best First Cars Under $5k (Sedan & Hatchback)
#1 Ford Focus
2018 was the final model year for the Ford Focus.
But still, as a used first car, the Ford Focus remains a reasonable choice for teenagers on a small budget.
A $5,000 budget cap means opting for a first-generation Ford Focus (beginning 2000), but you aren't settling for a lesser car.
Older Ford Focus models have good first-car traits:
Sporty handling.
Relatively quiet and comfortable cabin.
Well-done interior.
Large interior space.
Frugal with fuel – between 24 and 26 mpg combined with the automatic, depending on which first-gen model year.
Overall, it's a wonderful small car that's fun to drive and easy to maneuver around town.
Because the Focus has such a variety of configurations, it's easy to find one that suits your needs.
#2 Hyundai Elantra
Less illustrious than the Honda Civic and Toyota Corolla, the Hyundai Elantra makes up for the lesser brand name with an abundance of value that few rivals can match.
These Elantra qualities make the car an excellent value-for-money purchase:
Outstanding fuel economy – the latest generation leads the segment in efficiency, although the older generations are plenty frugal.
Spacious cabin and trunk – regularly class-leading in both areas.
Good balance between ride quality and handling.
Plenty of technology and safety features for the money.
Long warranty – although extended coverage may be necessary when buying a used model.
A used Elantra is cheaper than a Corolla of similar age, so instead of a twenty-year-old model, a $5k budget can buy you a seventeen-year-old Elantra – or potentially newer.
#3 Kia Rio
Kia manufactures inexpensive first cars, and the extra-small Rio will suit a good range of small first car budgets.
While providing basic transportation is what it does best, the Kia Rio still proves to be among the better subcompacts:
Stable handling – agile around town with easy maneuverability.
Smooth ride.
Good visibility.
Fuel-thrifty engine – between mid-20s-mpg and 30-mpg combined for models from ten to eighteen years old.
Solid build quality for an extra-small vehicle.
A fifteen-year-old Kia Rio costs no more than $5,000, except those with low mileage.
But because Kia Rio is such an inexpensive car brand-new, increasing your budget by a few thousand dollars can net you a considerably newer model – a seven-year-old Rio costs under $10k.
#4 Nissan Versa
The entry-level Nissan Versa is worth considering if a subcompact sedan is on your radar.
The first-generation Versa is an affordable, value-packed subcompact:
Large interior for its class.
Solid build quality despite its diminutive size.
Good fuel economy – never less than 27 mpg combined, regardless of the model year.
Excellent visibility – the boxy design of older Versas is a massive plus for ease of driving.
Long features list.
Versa's ride comfort is decent and only gets bouncy over poorer quality surfaces.
If you want a larger Nissan but don't mind settling for an older one, the compact Sentra (later in the post) is available.
#5 Toyota Corolla
Not only is it an excellent first car, but the Toyota Corolla is also arguably the most reliable compact car with the longest history spanning over fifty years and countless generations.
With a modest budget of $5,000 or less, you need to target the most trusted vehicle in durability, and you cannot go wrong with the Corolla.
Old Toyota Corollas retain many of the famous nameplate's first-car qualities:
High fuel efficiency – twenty-year-old Corollas are plenty thrifty, achieving approximately 30 mpg combined.
Ride comfort – one of the softer-riding compact sedans.
Good visibility – makes driving less strenuous.
A reasonable amount of safety features – depends on the model year.
Rock-solid reliability – one of the most reliable first cars.
Excellent safety ratings.
As long as you can verify the car's condition, you can rely on your used Corolla to not let you down:
A Corolla around twenty years old costs under $5,000.
#6 Honda Civic
Like the Toyota Corolla, Honda Civic has long dominated the American roads with reliability that's second to none.
The Civic is a solid choice for teenagers and new drivers with commendable first-car qualities.
Its first-car credentials are substantial and have stayed relevant for several decades:
A blend of athleticism and comfort.
Excellent fuel economy – nearly 30 mpg combined in the Civics as old as twenty years.
Spacious cabin and trunk – a class leader in both areas.
A good amount of safety features.
Sharp handling – the Civic is one of the more fun-to-drive compacts.
Composed ride.
Easy to drive with good visibility.
A $5k budget will get you a twenty-year-old (or older) Honda Civic – aged but still dependable.
#7 Kia Forte
Kia is Hyundai's less famous cousin – and less recognizable than Honda and Toyota – but its vehicles are big on value.
The Kia Forte isn't as refined as a Honda Civic or a Toyota Corolla, but it offers plenty of features in a solidly built package.
The first-generation Kia Forte debuted in 2010 with attractive styling, good fuel economy, and excellent handling. It can return close to 30 mpg in mixed driving, a commendable achievement for a 156-horsepower engine.
You should target the first-generation models with a $5k budget.
Kia Fortes are popular first cars among young drivers due to their feature-packed offering at less than the competition.
#8 Nissan Sentra
The Nissan Sentra's smooth and composed ride quality is a strong reason why it's an easy recommendation for new drivers.
It typically doesn't have strong acceleration or the most exciting looks, but few budget first car buyers will complain.
Its fuel efficiency matches more established rivals like the Toyota Corolla or Honda Civic of similar age.
Other Nissan Sentra pluses include:
Lots of standard features.
Roomy cabin.
Simple controls.
Good visibility.
Quiet highway ride.
Reasonable reliability.
A twenty-year-old Sentra will generally fit a $5,000 budget.
#9 Toyota Camry
While Corolla is the safe choice for a compact sedan, the larger Camry will suit new drivers who need a midsize for more interior space.
The Toyota Camry is also one of the most reliable first cars with excellent traits:
High fuel efficiency – mid-20s-mpg overall in nearly two decades old Camry models.
Good visibility for ease of driving.
Roomy cabin and trunk for the segment.
Reasonable list of driver aids.
Solid reliability – a tie with the Honda Accord.
Excellent safety ratings – an impeccably safe first car.
Although larger than the Corolla, opting for a $5,000 used Camry doesn't mean you need to settle for one more than twenty years old.
Best First Cars Under $5k (SUV)
#10 Honda CR-V
The Honda CR-V is a compelling choice for an SUV first car with its all-around excellent performance, utility, and efficiency package.
Honda CR-Vs – including used ones – typically have these vital points:
Powerful yet thrifty engine – expect mid to low-20s-mpg in eighteen-year-old or older models.
Roomy interior with high cargo capacity – often the largest in its class.
Handles athletically, yet the ride stays composed and comfortable.
Good visibility.
Excellent safety ratings.
Top-notch reliability.
Plenty of standard features.
Due to CR-V's strong resale value, a $5k budget means you will need to settle for a twenty-year-old model.
Still, they are highly durable vehicles, so a relatively dated CR-V should present no significant reliability concerns.
#11 Toyota RAV4
The Toyota RAV4 has long been the Honda CR-V's archnemesis, consistently pushing each other to greater accomplishments – they are the best-selling SUVs in America.
While the RAV4 typically isn't as sporty as the CR-V, the former has plenty of other first-car qualities to offer:
Impressive fuel efficiency – on par with rivals from Honda and Hyundai.
Large and versatile cargo area – it's one of the most spacious in the segment.
Smooth and comfortable ride.
Advanced safety systems and driver aids are standard.
Top-notch crash safety – has numerous safety awards to its name.
Solid reliability – backed by Toyota's low maintenance costs.
(Unfortunately) The Toyota RAV4 holds value slightly better than the CR-V, so expect to get an even older model with a $5,000 budget – an over two-decade-old RAV4 will probably fall within your budget.
#12 Subaru Forester
Knowledgeable car shoppers recognize Subaru's unique proposition with standard all-wheel-drive (AWD) vehicles, except the rear-wheel-drive Subaru BRZ sports coupe.
AWD aside, the Forester has:
Relatively fuel-thrifty despite the four-wheel power delivery – low-20s-mpg combined for older models around the $5k price tag.
Excellent visibility – applicable to all model years, especially the older, boxier ones.
Spacious interior and storage.
Good ride comfort.
Immaculate crash safety record – the safest first car among SUVs.
The Forester's underwhelming acceleration is its only drawback in an otherwise solid SUV – although being underpowered shouldn't qualify as a first-car flaw.
With a $5k allocation, you can buy a twenty-year-old (or thereabout) Subaru Forester.
Still, the Forester is an easy car to drive, and teenagers will enjoy the AWD ride.
References:
https://www.carsforsale.com/used-cars-for-sale
https://www.autotrader.com/cars-for-sale/