Are Toyotas Good First Cars? (17 Models Checked)
Toyota has a rock-solid reputation for building dependable vehicles.
Toyota vehicles are excellent first cars, especially the subcompact, compact, and midsize sedans with outstanding fuel efficiency, strong reliability, and low running costs.
This list comprises the best Toyota cars for beginners, some better than others.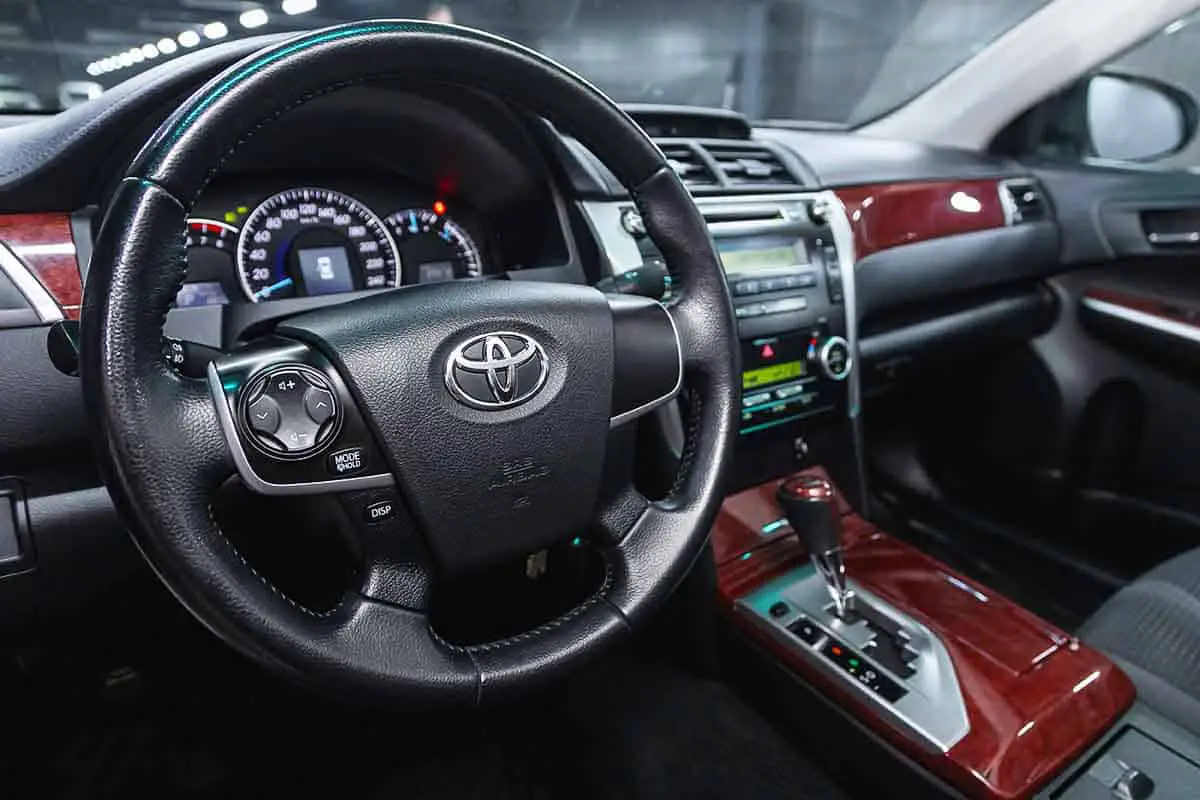 Generally: Are Toyotas Good First Cars?
Toyota vehicles' central design focus has always been on comfort, safety, and fuel efficiency.
Toyotas typically make the ideal car for first-time buyers as they boast impressive fuel economy and a proven reliability record that is second to none.
Used Toyota cars are similarly capable and relatively cheap to maintain.
Consumer Reports ranked Toyota at position 3 out of 28 in their 2021 reliability rankings, and they have remained a top 3 performer for many years.
The ride may be on the soft side, but first cars need to be reliable and inexpensive to run more than being monsters on the racetrack.
What Makes a Good First Car?
It's easy to lose sight of what you need a car to do best in the presence of overwhelming and endless enticing options as a first-time car buyer.
If you're buying a new first car, these criteria are essential:
Reliability – inexperience with simple repairs and maintenance tasks can become costly with frequent trips to the workshop.
Affordable maintenance – automotive brands that sell a high volume of cars yearly typically don't cost much to service. You will want to check the warranty for coverage length and maintenance details.
High resale value – research the model's used car market. You will sell your first car, and you want to lose as little as possible.
Fuel economy – regular driving with longer periods between visits to the pump is ideal for any pockets.
Color – dirt isn't as visible on light-colored vehicles. You will clean it frequently initially, but enthusiasm fades as you age with it.
You love it – it will stay with you for a few years before upgrading. You need to like it enough while balancing the other criteria.
If you're buying a used first car, you need:
Cheap – room for huge savings if you search hard enough in the used car market.
Proven reliability – you can bargain more if the car has high mileage, but request for its maintenance record to verify that the vehicle won't need costly maintenance when you own it.
Low mileage – if possible, but if the seller only kept it for a relatively short time, enlist an expert friend's help to identify hidden critical issues.
Parts availability – hard-to-find or discontinued replacement parts are a bank-breaking nightmare.
Fuel economy.
Keep your objectives in sight to avoid regrets later.
What About These Toyota Models:
Some Toyotas are more reliable than others, and a car's quality can differ between model years.
#1 Is a Toyota Avalon a Good First Car?
The Toyota Avalon is a full-size sedan – one of the diminishing few in this collapsing class as the market evolves and new car buyers opt for SUVs and smaller and fuel-efficient alternatives.
The Avalon boasts Toyota's long-standing reliability and fuel efficiency at over 30 mpg city drive and above 40 mpg for the hybrid setup.
Priced around the $40,000 tag, the Toyota Avalon makes financial sense only for first-time car buyers with deeper pockets. Notwithstanding the price for the latest model (but soon to be discontinued – inevitably), it is reliable and fuel-thrifty enough for a first car.
Newer models typically improved on their predecessors, but the newest may not always be the best for first-time buyers.
What Makes Toyota Avalon a Suitable Starter Car
The same renowned Toyota qualities are present to make the Avalon a very-capable first car:
Excellent fuel economy – 30mpg or more for the gas powertrain is hard to beat for its size. The hybrid version provides improved mpg figures.
Carefully constructed cabin – a strong car and will outlive competitors of similar age.
Spacious interior – most models have substantial rear-seat space, comfortably seating 3 adults.
Driver-assistance technologies – newer models boast plenty of assists that make driving effortless.
Smooth handling – Avalon's soft handling is ideal for beginners not looking to floor the accelerator at every turn.
Why an Avalon May Not Suit First-Time Owners
Some Avalon features play against buyers looking to own their first car:
Expensive – a brand-new Avalon is not within every buyer's budget, but a used older model is available for less than $10,000 (2010 model or older) or less than $5,000 (2006 model or older).
Large dimensions – if you just learned to drive, parking a long sedan can be challenging.
Absence of a hybrid powertrain option – older models run exclusively on gasoline and will continue to fade into irrelevance.
#2 Is a Toyota Aygo a Good First Car?
The Aygo is Toyota's subcompact city car for the European market as the Yaris is in the United States.
A new Aygo sells for around the $20k mark (approx. 18k Euro), a beginner-friendly price.
Its pint-sized dimensions, small engine, and feather-light handling are excellent for a first car that needs maneuvering in urban settings.
But if you frequently drive on the highway, gusty cross-winds can unsettle the car, making it twitchy, which can be unnerving for a beginner driver.
What Makes Toyota Aygo a Suitable Starter Car
The Toyota Aygo has many features that make it a great first car:
Small capacity engine – the 1.0-liter 3-cylinder engine is thrifty on fuel consumption unless you frequently overload the vehicle.
Small dimensions – easier to park for beginners.
Nimble – an excellent car for the corners and stop-and-go city traffic.
Why an Aygo May Not Suit Some New Drivers
Yet, its "smallness" can be a drawback, depending on the driver's needs:
Cramped interior spaces – 1 driver plus 2 adult passengers are still comfortable, but 3 adult passengers aboard start to become a stretch for the car's carrying capability and affect its handling.
Carrying too much weight can significantly reduce fuel economy.
Its nimbleness is a disadvantage in highway and long-distance drives.
Noisy at high speeds – the 3-cylinder engine is a specific performer for urban roads at a lower speed.
#3 Is a Toyota AE86 a Good First Car?
The Toyota AE86 is a legendary front-engine and rear-wheel-drive car, popularized by the Japanese anime series Initial-D.
However, a discontinued model decades ago (1987) makes the AE86 a less-than-ideal first car.
A daily driver suffers wear and tear, and a model out of production with hard-to-source parts will become costly in a hurry.
Unless you need a car for drifting and stay active in the motorsport community, you will do better focusing on newer models.
Why an AE86 May Not Suit First-Time Owners
The AE86 is for you if you're into motorsport, but for the majority of first-time car buyers, it is not a daily driver:
Poor fuel economy – a gasoline engine from the 80s is anything but efficient.
Limited replacement parts – even if you can find one, it will be exorbitant.
High maintenance – how familiar are you with the particular AE86 you want to buy? If you aren't, you could inherit a vehicle with problems you cannot solve.
#4 Is a Toyota 86 a Good First Car?
The Toyota 86 is the classic but affordably priced sports car for the purists on a budget.
Its 4-cylinder front-engine and rear-wheel-drive configuration packs enough horsepower for some spirited driving but not enough to pose a serious threat on the racetrack.
If you desire the experience of driving a sports car but don't have the financial means for a more expensive one, the sub-$30,000 price tag makes the Toyota 86 an enjoyable first car.
If you are serious about owning a daily driver that rides comfortably and saves you gas money, skip the Toyota 86. Get a compact sedan instead.
The Toyota 86 has many cousins sharing similar design DNAs – the GT86, GR86, Scion FRS, and Subaru BRZ – some are predecessors, others are current models in different markets.
There is a sizeable used car market for the 86/FRS/BRZ – but are they great first cars?
The linked post covers the 86, FRS, and BRZ for first-time owners in greater detail.
What Makes Toyota 86 a Great Starter Car
If you can afford to look past the stiff ride and high costs of ownership, you'll be happy with the Toyota 86 as a first car because of its:
Excellent handling and precise and responsive steering.
RWD platform – the engine's horsepower won't overwhelm you, but it's fun to drive with the manual transmission as you learn basic rear-wheel-drive car control.
Design – if you love it, who's to argue you shouldn't own one as your first car.
Compactness – nimble and easy to park.
Why the 86 May Not Suit First-Time Owners
As a car for everyday use on a limited budget, the Toyota 86 performs poorly:
Average fuel economy – it's a sports car. Expect to spend more on gas as more EVs fill the roads.
Stiff ride – not comfortable for long trips.
Loud interior – unpleasant for short and long-distance drives at higher speeds.
Tight rear passenger space – almost non-existent. Don't expect sedan-level legroom or headroom.
Small trunk space – unless you fold the rear seats.
Minimal on tech – it lacks audio tech capabilities.
#5 Is a Toyota Camry a Good First Car?
Toyota Camrys and Honda Accords are traditional rivals in the competitive midsize sedan segment and handy first cars.
The Camry bridges Toyota's smaller Corolla and the more luxurious Avalon.
Toyota Camrys, across the latest and older models, maintain their rock-solid reliability and excellent gas mileage for the midsize class, which make them a great first car.
The V6 option provides extra torque, and the Hybrid improved fuel economy, but the base V4 is plenty capable as a daily driver.
Some model years suffered a temporary dip with early but minor reliability issues, but in general, you won't go wrong with a Camry.
What Makes Toyota Camry a Suitable Starter Car
New and used Camrys continue to retain their value, which is essential for first-time car buyers:
Unfailing reliability – it has been Toyota's flagship sedan for decades and still upholds its reputation.
Strong fuel economy – the hybrid powertrain lowers the fuel consumption further.
Higher-than-average cabin and cargo space for the class – more room for the extra passenger or goods in the trunk.
Comfortable interior – comfortable seats and a relatively quiet interior.
Smooth ride – especially for long trips.
Safe choice.
The Camry's reliability is legendary, and the affordable insurance costs prove it.
Between the 2016 to 2021 Camry model years, the average insurance cost for a teenage driver is $299 a month, or $3,588 per year.
| | | |
| --- | --- | --- |
| Model Year | Insurance/mo | Insurance/yr |
| 2021 Camry | $259 | $3,108 |
| 2020 Camry | $395 | $4,740 |
| 2019 Camry | $327 | $3,924 |
| 2018 Camry | $265 | $3,180 |
| 2017 Camry | $305 | $3,660 |
| 2016 Camry | $284 | $3,408 |
| 2015 Camry | $261 | $3,132 |
Toyota Camry insurance cost for teenagers (Smartfinancial).
Why a Camry May Not Suit Some New Drivers
A midsize sedan like the Camry is an excellent family car but for a beginner:
It isn't easy to park – newer models continue to grow in dimensions and border the full-size class.
The size is unnecessary weight – a compact sedan may be more appropriate if the driver doesn't need to haul many passengers.
Overall, Camrys are excellent first cars.
When buying a used Camry, avoid 2018 and 2019 Camrys as they have many recalls, more than double the average of its other model years.
#6 Is a Toyota Corolla a Good First Car?
The Corolla is Toyota's most popular compact car and has remained so for decades.
The first-generation Corolla began in 1966 and has endured through generations of re-designs and refinements and still performs strongly today.
It has relatively sluggish acceleration, but its composed ride, high fuel economy, and impeccable reliability make the Toyota Corolla the perfect first car for most drivers.
The Corolla Hybrid is a step in the right direction for fuel efficiency before electric vehicles take a firmer hold of the industry.
The Honda Civic is another compelling choice for your first car in the compact segment.
What Makes Toyota Corolla a Suitable Starter Car
New and used Corollas are excellent first cars because:
Fuel economy – 30 mpg (or much higher) in newer and hybrid models speaks volumes of how much you stand to save on gas.
Strong reliability record – always dependable to go the extra mile.
Solid built – it is usually the last to break among its peers.
It's a small sedan – for a beginner owning the first car, it's the perfect balance of paying for what you need.
Safe choice.
Toyota's reputable reliability is evident in the Corollas.
The average insurance cost for a Corolla is around $305/month, or $3,660/year, for a teenage driver – an affordable price to pay for a dependable daily driver.
| | | |
| --- | --- | --- |
| Model Year | Insurance/mo | Insurance/yr |
| 2021 Corolla | $288 | $3,456 |
| 2020 Corolla | $354 | $4,248 |
| 2019 Corolla | $287 | $3,444 |
| 2018 Corolla | $233 | $2,796 |
| 2017 Corolla | $340 | $4,080 |
| 2016 Corolla | $291 | $3,492 |
| 2015 Corolla | $346 | $4,152 |
Toyota Corolla insurance cost for teenagers (Smartfinancial).
Corolla's insurance costs do not vary wildly across its model years, indicating a highly reliable car, in line with Toyota's reputation.
It is comparable to a Camry, but if you don't need ample cargo space, the Corolla is cheaper, more frugal on gas, and easier to maneuver around town.
When buying a used Corolla, avoid 2012 and 2019 Corollas; they have 5 recalls each, the highest among the past decade's model years.
Why a Corolla May Not Suit Some New Drivers
In the odd cases, a Corolla may not be the right car:
Low rear headroom – could be an issue if you frequently need to carry passengers in the back seat.
Road noise at higher speeds – an issue when you drive long distances or at lower speeds on coarse surfaces.
Underwhelming acceleration – isn't much fun for spirited driving. Passing slower cars will require extra planning and a heavy foot.
However, these are minor gripes for a vehicle that continues to be one of the go-to daily drivers for any buyer looking for a first car.
#7 Is a Toyota Celica a Good First Car?
The Celica has been Toyota's long-running sport coupe for decades.
However, the Celica is a discontinued model. As a first car, it will be challenging to maintain when parts break – unless the Celica you're eyeing has a proven service record.
The Toyota Celica is an entertaining and solid car in relatively high-performance mode – if that's what you want, and you want a ride that impresses.
But for daily commuting, its stiff ride can be uncomfortable.
The rev-happy engine will not give you the gas mileage that newer cars can.
Why a Celica May Not Suit First-Time Owners
If you want to get the Celica as your first car and a daily driver, these drawbacks will make you re-think:
Peaky GTS engine – excellent for spirited driving, but you will want a smooth ride for daily and long-distance drives. Comparatively, the GT has less horsepower.
Stiff suspension setup – uncomfortable for long trips.
Tight cabin space – the Celica is a sport coupe, not the ideal passenger car.
The Celica is an old model no longer in production, and a 'sporty' car, so expect the insurance coverage for a teenage driver to be relatively expensive.
#8 Is a Toyota Chaser a Good First Car?
The Chaser was Toyota's legendary four-door sedan that aimed to excel at comfort and performance with a rear-wheel-drive configuration for optimal drifting fun.
It is a Japanese-based production only available via import into the United States.
The added costs of import and costly and low availability of spare parts make the Toyota Chaser a poor choice for a first car.
If budget isn't an issue, the Chaser makes a great second car for exhilarating fun on a track day.
#9 Is a Toyota C-HR a Good First Car?
The Toyota C-HR is a distinctive-looking subcompact crossover SUV.
The coupe-like swoopy styling stands out from the crowd, and its sporty handling is suitable for driving around town.
It mimics the super successful RAV4 but is more affordable.
Its suitability as a first car for teenagers depends on what requirement matters more.
What Makes Toyota C-HR a Suitable Starter Car
The C-HR has the right qualities that make an ideal first car:
Futuristic styling – suitable for young drivers.
Fuel efficient – it does what a subcompact vehicle should do.
Plenty of safety features.
Its extra-small size makes parking easy.
Why a C-HR May Not Suit Some New Drivers
These drawbacks are worth noting but not a dealbreaker for a first car:
Taller drivers and rear passengers may not fit comfortably.
Noisy cabin at high speeds.
Limited cargo room.
Sluggish acceleration – a noticeable and frustrating problem with more passengers aboard.
Relatively expensive for a first car – you still pay $20,000 or more for a new or used C-HR; it's cheaper than the RAV4, but you get a lot less.
#10 Is a Toyota FJ Cruiser a Good First Car?
The FJ Cruiser is an iconic five-passenger midsize SUV that debuted in the US market in 2007 and bowed out with its 2014 model.
It has a distinctive retro style and outstanding off-road capability – a rare but unique combination among SUVs.
Most SUV drivers would love to own an FJ Cruiser – impressive off-road ability, unique styling, and comfortable interior.
However, the expensive price tag – starts from $15,000 and goes as high as $50,000, depending on age and mileage – makes the FJ Cruiser a poor choice for a teenager's first car.
But if its impressive look is your topmost priority, the FJ will not disappoint.
Why an FJ Cruiser May Not Suit First-Time Owners
The FJ Cruiser has many attractive qualities but few that support making it the first car, especially for a young, new driver:
Pricey – the cheapest and oldest still sells at over $10k. Its discontinuation in 2014 drives up the demand for them.
Gas guzzler – frequent visits to the pump won't work well for drivers on a budget.
Small side-view mirrors – they are small for an SUV. The blind spots and poor visibility make driving difficult for a beginner.
Expensive to maintain – costly repairs and insurance.
#11 Is a Toyota Highlander a Good First Car?
The Toyota Highlander is a 3-row crossover SUV. It was one of the first car-based midsize crossovers.
The Highlander may not look like the ideal first car at first glance, but it has useful features and surprising capabilities considering its size. It makes an excellent first car if you shop for older used models.
What Makes Toyota Highlander a Suitable Starter Car
If you want, need, or don't mind the size, the Toyota Highlander makes a very competent first car:
Powerful yet fuel-efficient V6 – above-average fuel economy for its class.
Affordable – not the latest models. Depending on the year and vehicle conditions, you can buy a used Highlander for under $10,000 (mostly pre-2009 models).
Carlike maneuverability – surprising considering its size.
High seating position – easy to see out; perfect for a beginner driver.
Strong reliability – it's a Toyota.
Safe – safer than the smaller sedans if safety in an accident is your concern.
Why a Highlander May Not Suit First-Time Owners
If you don't fancy a sedan for a first car, consider these drawbacks on the Highlander:
Lower fuel economy – when you compare it to a compact or a midsize sedan. Male teenagers are heavy on the accelerator. Who's paying for gas?
High maintenance costs – gas, insurance, and repairs cost more than a sedan.
V6 engine – not necessary for a teen driver.
Its large dimensions – relatively tricky to park. Plus, expect knocks and bumps in the initial phase of ownership.
#12 Is a Toyota MR2 a Good First Car?
The MR2 and MR2 Spyder are discontinued models.
Its suitability as a first car depends on what you value more – a weekend car or a daily driver?
What Makes Toyota MR2 a Reasonable Starter Car
If you need a first car that drives like a champ and you are prepared to forego a daily driver's ride comfort and fuel economy, the MR2 is a modest choice:
Cheap to buy – but not equally cheap to maintain.
The car's design – love it or hate it; it is subjective.
Precise handling – it corners like a dream.
Stable ride – its relatively long wheelbase and wide tires keep the car planted.
It needs care and love – any used MR2 you can get your hands on will be old; be prepared to spend time and money to maintain it, but you'll appreciate it more. Or hate it.
Why an MR2 May Not Suit First-Time Owners
The Toyota MR2's advanced age is an understatement; overall, it is difficult to recommend an MR2 as a first car:
A little too fast – does a teenager need the speed if safety and fuel economy should top the priority list?
Dated design – inside and outside. Is the owner driving it to impress?
High ownership costs – expect to pay more for gas, insurance, and repairs for a car no longer in production. It's over a decade old and counting; the costs will only increase.
It's old – you're less likely to find a well-maintained MR2.
It may work as a second car if you must own one.
#13 Is a Toyota Prius a Good First Car?
The Prius was one of the first gas/electric hybrids to hit mass production and the symbol of eco-friendliness in the auto industry.
The acceleration on any Prius can be sluggish, but it checks all the boxes for an excellent first car.
If you're considering a hybrid, a Prius of any age will not disappoint.
What Makes Toyota Prius a Suitable Starter Car
The Toyota Prius has everything you need the first car to do:
Good visibility – crucial for a beginner driver.
Compact – easy to maneuver around town.
Fuel economy – it's the best in its class. Depending on the model year, newer ones can achieve 50 mpg or more in the city.
Safety features – standard across Prius models.
Plug-in hybrid option – the latest models allow plugging into an outlet or charging station.
Further, the monthly insurance cost for a teenage driver is an affordable $269 a month, or $3,228 a year, for a 2020 Prius.
Older Prius model years do not stray too far from that figure, suggesting fairly consistent reliability.
#14 Is a Toyota RAV4 a Good First Car?
The RAV4 is a compact crossover with an all-wheel-drive in newer models.
A used RAV4 model with a front-wheel-drive is a capable driver in most conditions. The modest acceleration is the only noteworthy con in an otherwise all-around competent first car.
Aim for a few years old RAV4 with low mileage for a cheaper purchase.
What Makes Toyota RAV4 a Suitable Starter Car
The RAV4 maintains several advantages over a compact sedan as a first car because of its:
Dependable reliability – it's a Toyota.
Comfortable ride quality – drives well over short and long distances.
Good visibility – essential for a young driver.
Relatively compact – easy to park and maneuver around town. But it depends on what model year you buy – newer models continue to grow in size.
Quiet interior – makes for pleasant commuting.
#15 Is a Toyota Supra a Good First Car?
The Toyota Supra is an iconic sports car and not the cheapest for young drivers considering a first car.
Newer models are expensive for a first car, but older ones aren't cheap either. Overall, a Supra isn't suitable for a first-time owner, especially when ownership costs are a concern.
It's a beauty; it's nimble and quick – but perhaps too much performance for a daily driver.
Why a Supra Does Not Suit First-Time Owners
Beginner drivers aren't the most experienced, so for a first car, the Toyota Supra rates poorly:
Premium price – its value appreciates, and the insurance will be exorbitant for an inexperienced driver.
Expensive to maintain – parts and repairs are costly.
Too powerful for a beginner driver.
Loud interior.
Lacks cabin storage.
Uncomfortable seats for long-distance drives.
But it's hard to argue against the pure driving experience and its sporty look if you must buy one.
#16 Is a Toyota Tacoma a Good First Car?
The Tacoma is a pickup truck and isn't the typical vehicle you'll consider for a first car.
The size of a pickup generally makes it tricky to park and maneuver for a new driver, but if you need the cargo bed to haul large goods, the Tacoma is as good as it gets for a first pickup truck.
Otherwise, settle for a compact SUV or sedan instead.
What Makes Toyota Tacoma a Suitable Starter Car
Depending on what you need your first vehicle to do, these qualities in a Tacoma may suit:
Reliability.
High resale value.
Seating position higher than a sedan – similar to an SUV as an advantage for beginners.
Off-pavement capability.
Strong build.
High safety scores – any safe car is a good first car for teenagers.
Why a Tacoma May Not Suit Some New Drivers
For most newbie drivers, a Toyota Tacoma isn't the ideal first car:
Difficult to park due to its size.
Average gas mileage – around 20mpg across most models.
Powerful engine – not what you need if you wish to save on gas money.
Expensive – unless you go for a used 10-year old model or older (below $20,000).
#17 Is a Toyota Yaris a Good First Car?
The Yaris is a hatchback in the subcompact car category.
It is the smallest and least expensive vehicle in Toyota's lineup, making it a competitive option for drivers looking to buy their first car.
Plus, it's a fun car to drive and affordable to own.
What Makes Toyota Yaris a Suitable Starter Car
The Toyota Yaris is small but an all-around superb first car for sedan and hatchback shoppers on a budget:
Super compact and easy to drive – excellent for new drivers.
Impressive fuel economy – above 30 mpg city/highway driving.
Reliable engine – if well-maintained.
Feature-rich at an affordable price – depending on the model year.
Nimble handling – zippy around town due to its power-to-weight ratio.
Average trunk space – respectable for its class.
The Toyota Yaris First Car post contains significantly more details.
Comparison: Best Toyota for First Car
See the table below on how the various Toyota models compare in the areas that matter.
Table Guide:
Safety (IIHS): 1 (poor) to 4 (good); IIHS tests averaged.
Safety (NHTSA): 1 (poor) to 5 (safest); NHTSA overall.
Visibility: excellent, good, average, poor.
Fuel Economy: mpg city/highway/combined (base model). MPGe = miles per gallon equivalent.
Reliability: /100; higher = fewer problems (JD Power).
Maintenance Costs: per year avg. (RepairPal).
| | | | | | | |
| --- | --- | --- | --- | --- | --- | --- |
| | Safety (IIHS) | Safety (NHTSA) | Visibility | Fuel Econ. | Reliability | Maint. Costs |
| Camry | 4.0/4 | 5/5 | Excellent | 28/39/32 | 82/100 | $388 |
| Corolla | 4.0/4 | 5/5 | Good | 30/38/33 | 83/100 | $362 |
| RAV4 | 4.0/4 | 5/5 | Excellent | 27/35/30 | 79/100 | $429 |
| Tacoma | 3.8/4 | 4/5 | Good | 20/23/21 | 82/100 | $478 |
| Yaris | 4.0/4 | 5/5 | Average | 32/40/35 | 80/100 | $333 |
| Prius | 3.8/4 | 5/5 | Average | 54/50/52 | 76/100 | $408 |
| Prius Prime | 3.8/4 | 5/5 | Average | 54 mpg 133 MPGe | NA | NA |
| 86 | 3.8/4 | 4/5 | Average | 21/28/24 | 78/100 | NA |
Toyota models comparison.
Most Toyotas are safe and reliable.
If having excellent outward visibility while driving matters most to you, the Toyota Camry and RAV4 are the best Toyota for a teenage driver.
The RAV4 provides the added advantage of an SUV's high seating position.
If the top priority is getting a vehicle that's thrifty on fuel, the Prius, Yaris, Camry, or Corolla would be the best Toyota for new drivers on a small gas budget.
Opt for the Prius Prime if you want the option to run the vehicle purely on electricity for short commutes.
You may not need to buy gas for an extended period if you only drive short distances and regularly recharge the battery overnight.
Which Toyota Depreciates the Least?
The 5-year depreciation values below assume a brand-new vehicle and an annual driving distance of 13,500 miles (the average for American drivers).
| | |
| --- | --- |
| Model | 5-yr depreciation |
| Corolla | 38% |
| Camry | 49% |
| RAV4 | 40% |
| Tacoma | 29% |
| Yaris | 47% |
| Prius | 47% |
| Prius Prime | 47% |
| 86 | NA |
Value depreciation among Toyota models.
The Toyota Corolla and Tacoma show excellent value retention.
However, because the Tacoma isn't an ideal first car, the Corolla is the better choice if you don't want to lose too much when it's time to sell.
Remember to allocate money for these cost items apart from the purchase price:
state and local sales tax,
title and registration fees,
documentation fee,
interest charges on the car loan,
monthly gas and maintenance costs, and
insurance costs.
Always do your research, inspect, and test drive before buying.
Alternative Makes to the Toyota for a First Car
As far reliability goes, these makes and models should make your shortlist:
References:
https://www.kbb.com/car-values/