Are Pickup Trucks Good Daily Drivers? (6 Facts; Gas & Diesel)
Trucks are practical for daily use because they can work, haul, and tow, besides riding reasonably comfortably, although the poor fuel economy remains a drawback.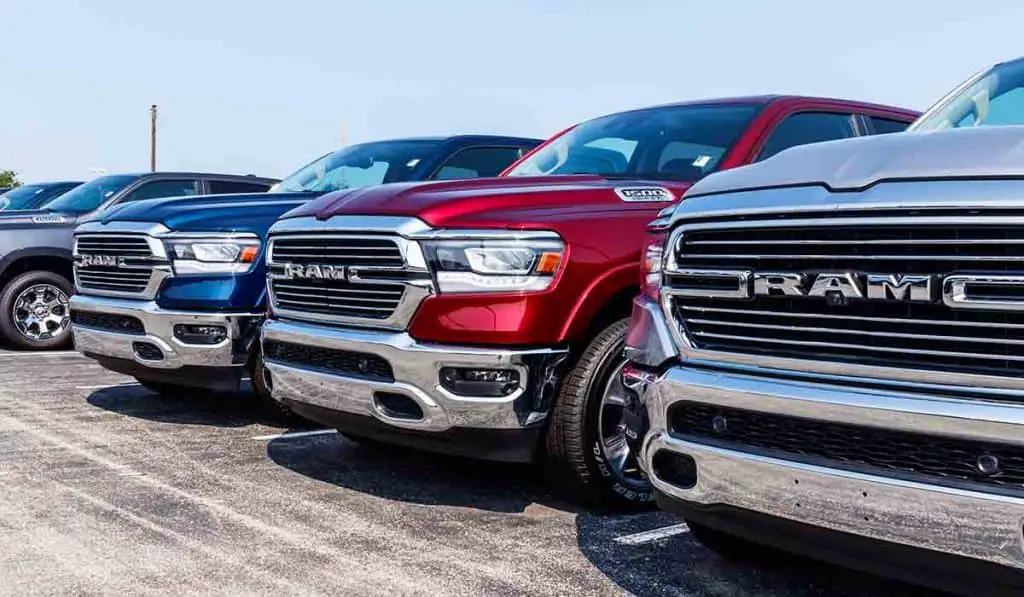 Drawbacks of Daily Driving a Pickup Truck
#1 Thirsty Powertrain
Although midsize and crossover trucks have increased in recent years, full-size trucks – from half-ton to heavy-duty ones – still lead in sales and capabilities.
Due to their higher towing and payload capacities, full-size models are more competent work trucks.
However, their fuel economy expectedly suffers.
The EPA exempts heavy-duty trucks, but three-quarter-ton and one-ton trucks typically get 15 mpg or less in mixed driving.
Diesel-powered heavy-duty models return better gas mileage, achieving 18 mpg combined in some models.
Mpg figures of the midsize trucks (like the Tacoma, Gladiator, and Colorado) and light-duty full-size models (like the F-150, Ram 1500, and Silverado 1500) range from the high teens to the low 20s, depending on the engine and drivetrain (RWD or 4WD).
Midsize and light-duty full-size pickups are more fuel-efficient and an excellent alternative for drivers who need the utility of a truck but don't need the size and considerable capabilities of a costlier heavy-duty workhorse.
#2 Average (Although Improving) Ride Comfort
Most pickup trucks utilize body-on-frame construction, giving them better off-roading and hauling capabilities.
This design makes trucks highly resistant to twisting forces when crawling over rocky terrains or maneuvering with heavy loads on the cargo bed.
Unfortunately, these superior off-road and towing capabilities translate into worse on-road ride comfort and handling.
Body-on-frame vehicles provide a degree of isolation from the road, including noise, vibration, and harshness.
Still, these trucks aren't as comfortable-riding as unibody ones, a type of vehicle design common in passenger cars and crossover SUVs.
Opt for a unibody truck if you want a light-duty and comfortable truck to drive every day.
The Honda Ridgeline is an excellent unibody pickup in the midsize segment.
#3 Parking May Be Problematic
Trucks are longer and broader than four-door sedans or SUVs, and full-size trucks are typically 4 to 5 inches wider than a midsize pickup.
Trucks also have a bigger turning radius, compounding the difficulty of parking one in a crowded space.
The figures below give a clearer picture:
| | | | |
| --- | --- | --- | --- |
|   | Length | Width (w/o mirrors) | Turning Circle |
| Ford F-150 | 209.1 inches | 79.9 inches | 41.2 ft. |
| Toyota Tacoma | 212.3 inches | 74.4 inches | 40.6 ft. |
| Toyota Camry | 192.1 inches | 72.4 inches | 37.4 ft. |
| Honda CR-V | 182.1 inches | 73.0 inches | 37.4 ft. |
Midsize truck vs. Full-size truck vs. Midsize sedan vs. Compact SUV size comparison.
Parking a truck with the front bumper to the curb will make it tricker when leaving due to the reduced visibility and larger turning radius.
It's harder to see other smaller vehicles when looking over the truck bed while reversing, where you rely heavily on the side view mirrors.
Backing into a parking space may require more effort, but it will save you grief and aggravation when it's time to leave.
This method also prevents the long truck bed from sticking out – the distance between the rear bumper and the back tire is more than the corresponding distance at the front of the vehicle.
Either way, the adaption will be steeper for those who previously drove sedans and compact SUVs.
Good Reasons to Daily Drive a Pickup Truck
#4 Good (But Not Excellent) Visibility
A truck's elevated seating position affords the driver an expansive view of the road, making driving less strenuous and safer.
Although some trucks have high beltlines that somewhat compromise visibility, seeing out of a pickup is considerably less stressful than a low-slung sports car.
However, larger vehicles have massive blind spots, and pickup trucks have more significant blind spots than SUVs.
According to Consumer Reports, a truck's tall hood creates blind spots at the front, approximately 11 feet longer than a sedan and up to 7 seven longer than some SUVs.
These are essential safety systems if you daily drive a truck:
Automatic emergency braking with pedestrian detection.
Automatic emergency braking at city speeds.
Blindspot warning.
#5 An Abundance of Power on Tap
Trucks are large vehicles with powerful engines that range from adequate-for-the-job to outright potent with an empty bed.
Newer engine options include turbodiesels, turbocharged petrol V6s, hybrids, and full-electric power units – each capable of more thrust while improving fuel efficiency.
Acceleration and lane-merging are effortless with the healthy amount of horsepower available at your right foot.
#6 All-Round Versatility
Owning a truck and a car is the perfect scenario if you have the funds and want the best of both worlds.
But if you have to choose one type of vehicle that can haul and tow on demand yet travel in reasonable comfort, nothing beats a pickup truck.
Trucks are now available in regular cab, crew cab, and extended cab, offering the appropriate amount of interior space to fit your family's needs while maintaining a cargo bed for equipment-hauling.
An extended cab sacrifices bed length, but you get to choose (at least).
What About These Types of Trucks:
Is a Diesel Truck a Good Daily Driver?
Diesel engines are no longer the smog-producing, environment-polluting machines of yesteryear.
Newer trucks have optional diesel-powered engines because they provide higher torque for increased pulling strength, although the overall carbon emission remains marginally higher than their gasoline counterparts.
If you can accept the higher upfront cost and costlier fuel, diesel trucks are reasonable daily drivers because they are more fuel-efficient and durable.
A diesel engine generates more power using less fuel, increasing fuel efficiency between 10% and 25% compared to an equivalent gas-powered one.
Diesel may cost more than regular gas at the pump, but the higher fuel economy offsets that drawback.
A diesel truck's advantages extend beyond its towing and hauling superiority.
It benefits from compression ignition (rather than spark plugs), which means less mechanical input, resulting in higher reliability and lower maintenance cost.
Daily driving a diesel truck tends to cost less in the long run.
Old or Classic Truck as a Daily Driver
The trucks of days gone by were rugged workhorses, but parts condition is a concern, with rust running rampant.
Unless you're able and willing to work on one, old and classic trucks aren't suitable daily drivers as they are unsafe, uncomfortable, and guzzle fuel; plus, repairs may be costly.
They are 'basic' vehicles and typically do not have power steering, power brakes, or driving aids.
On the upside, old and classic trucks suffer no depreciation, and they have roomy cabins.
Lifted Truck as a Daily Driver
Lifted trucks are superb off-roaders, and the elevated ground clearance ensures the toughest terrain is no bother.
The raised seating position is a huge plus for longer-distance visibility, but it also makes a lifted truck an inconvenient and poor daily driver because getting up and into one is a hassle and the massive blind spot beyond the hood poses a safety concern.
Parking a mammoth lifted truck in tight urban settings is a nightmare – especially parallel parking – and the tall body means it cannot enter some height-limited garages.
Plus, the large and heavy tires ensure a thirsty engine.
Diesel Truck vs. Gas Truck for Daily Driving
Cost is the primary differentiator, and your choice for daily use will depend on what matters more to you.
| | | |
| --- | --- | --- |
|   | Diesel Truck | Gas Truck |
| Vehicle Price | More expensive | Cheaper |
| Fuel Price | More expensive | Cheaper |
| Fuel Economy | Higher | Lower |
| Tow & Haul Capability | Higher | Lower |
| Maintenance Cost | Cheaper | More expensive |
| Repair Cost | More expensive | Cheaper |
| Carbon & other emissions | Higher | Lower |
Diesel truck vs. Gas truck daily driver.
Gas trucks are more popular and better daily drivers than diesel models because they are cheaper and require the lower-priced regular gas while emitting less polluting and toxic gases.
A diesel truck makes better sense if you need superior hauling and towing prowess – the diesel-powered Ram 2500 Cummins is one example.
For optimal efficiency, opt for a hybrid or electric truck.
Truck vs. Other Types of Vehicles for Daily Driving:
Truck vs. Car as a Daily Driver
A car can be a sedan, hatchback, coupe, or convertible, but for simplicity, let's compare a truck to a regular four-door sedan.
| | | | |
| --- | --- | --- | --- |
|   | Truck Daily Driver | Sedan Daily Driver | Hatchback Daily Driver |
| Ride Comfort | Average | Excellent | Good |
| Fuel Economy | Poor | Good | Excellent |
| Enter & Exit | Good | Good | Good |
| Visibility | Good | Good | Good |
| Cargo Space | Excellent | Average | Good |
| Utility | Excellent | Average | Good |
Truck vs. Sedan vs. Hatchback Daily Driver.
The better choice for daily driving depends on the vehicle's primary purpose.
If you regularly need the vehicle for hauling or heavy-duty tasks, a truck would make a better daily driver than a car because of its broader utility.
A truck is less fuel-efficient and typically rides less comfortably than a car, but the all-in-one practicality offers significant value when it matches your demands.
You should choose a car for a more economical everyday vehicle if you have no use for the tow and haul ability a truck offers.
A car is smaller, lighter, and generally easier to maneuver around town.
Truck vs. SUV (incl. Jeep) as a Daily Driver
Quick info: Most Jeep models are SUVs, except for the Gladiator, which is a truck.
| | | |
| --- | --- | --- |
|   | Truck Daily Driver | SUV Daily Driver |
| Ride Comfort | Average | Excellent |
| Fuel Economy | Poor | Average |
| Enter & Exit | Good | Good |
| Visibility | Good | Excellent |
| Cargo Space | Excellent | Good |
| Utility | Excellent | Excellent |
Truck vs. SUV Daily Driver.
Although size-dependent, an SUV (or most Jeeps) is generally a better daily driver than a truck due to its higher ride comfort, roomier cabin, and stronger fuel economy.
Assuming a vehicle with plenty of glass area and slim roof pillars, an SUV edges a truck in outward visibility because it does not suffer from massive blind spots out the front as much as a truck with its tall hood.
An SUV enjoys an elevated ride height but without the tall step-in of a typical full-size truck.
Unless you opt for an extended-crew cab truck, an SUV of similar size classification will offer more interior room, cargo space included.
But if you do plenty of hauling and towing, a truck is the ideal choice.
Truck vs. Van as a Daily Driver
| | | |
| --- | --- | --- |
|   | Truck Daily Driver | Van Daily Driver |
| Ride Comfort | Average | Excellent |
| Fuel Economy | Poor | Average |
| Enter & Exit | Good | Good |
| Visibility | Good | Good |
| Cargo Space | Excellent | Excellent |
| Utility | Excellent | Excellent |
Truck vs. SUV Daily Driver.
Suppose a people hauler is your primary requirement, in which case, a van will offer you a more comfortable daily driver than a truck, plus a larger interior volume that doubles as a versatile storage space.
On the other hand, a truck can venture into rockier territories and undertake strenuous tasks – but useful only if you have use for these capabilities besides daily commuting.
A truck returns less mpg, but it's an acceptable trade-off for the work it does for you.
References:
https://theicct.org/sites/default/files/Gas%20_v%20_Diesel_%20CO2_emissions_%20EN_%20Fact%20_Sheet%202019_05_07_0.pdf
https://www.consumerreports.org/car-safety/suv-and-pickup-truck-drivers-more-likely-to-hit-pedestrians-a7444108492/