Most Affordable Car Rentals? (15 Companies Compared!)
Some car rentals compete for customers with lower rates, while others prioritize high-quality service to encourage repeat business.
While this post focuses on inexpensive car rentals, it also includes the pricier ones and ranks them so you know where they stand in the pricing stake.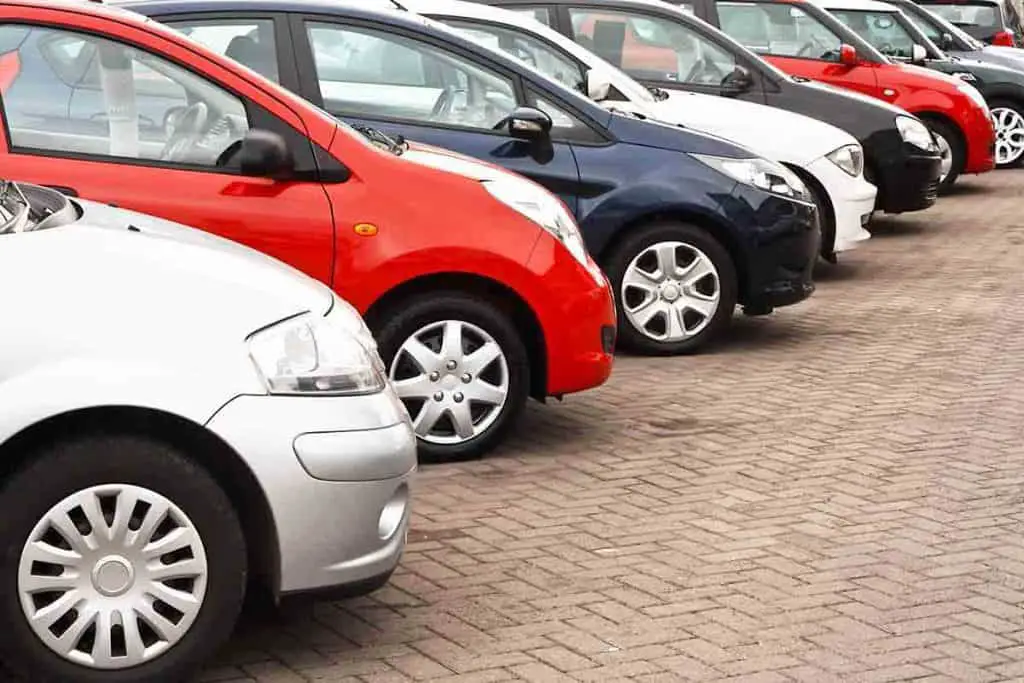 The 15 Most Affordable Car Rentals (from Cheap to Expensive)
Affordable rental companies typically have cheap mainstream vehicles that appeal to those with smaller budgets.
Let's begin with some of the least expensive.
#1 Advantage Rent a Car
Relative Rental Rates: Very low.
Advantage Rent a Car does not have many locations – 6 airport branches currently – or an extensive fleet; Advantage is the smallest car rental on this list.
Naturally, it offers some of the lowest rental rates to compete with the big boys in town.
Finding the right deal or available rental car for your next trip will be challenging, however.
While other car rentals experience shortages during peak travel seasons, searches on Advantage's website often return negative results in vehicle availability.
The Orlando International Airport is one of the limited locations that consistently show available cars.
Advantage's cars with the cheapest rates include:
Toyota Yaris.
Nissan Versa.
Toyota Corolla.
Volkswagen Jetta.
Toyota Camry.
Toyota RAV4.
During the off seasons, rental rates below $50/day are commonplace.
#2 Turo
Relative Rental Rates: Very low.
Turo is a unique car rental service, unlike the traditional corporate-owned rental vehicles on this list.
It is a car-sharing platform where guests can rent from private owners and choose from the infinitely expansive pool of vehicles in an area.
If you wish to rent uncommon models or want to shop for the lowest rates, Turo is the go-to option.
The kicker is the limited mileage; although the allocated miles are sufficient for most needs, the extra-mile rates are typically reasonable and car-dependent.
For drivers desiring a test drive before buying a particular make and model, Turo will satisfy.
#3 Fox Rent a Car
Relative Rental Rates: Low.
Fox is different from most other car rentals because it isn't part o the three biggest rental groups in North America – Avis Budget Group, Hertz Corporation, and Enterprise Holdings.
You can rent the typical economy cars like Toyotas and Nissans, and Fox's rental rates for these vehicles are typically sub-$50/day, perfect for those on smaller budgets.
For those who wish for more grunt under the hood, Fox also has muscle cars like the 300-plus-hp Dodge Charger at under $70/day, a steal for enthusiasts.
Further, Fox's pay-now and pay-later rates typically do not differ more than $5/day.
#4 Payless
Relative Rental Rates: Low.
Payless is the lowest-profile agency in the Avis Budget Group, which owns Avis and Budget car rentals.
Expectedly, Payless rates are the lowest among the three, offering $50-$75/day rentals for popular economy vehicles like Kia Rio, Nissan Versa, Volkswagen Jetta, Toyota Corolla, and Toyota Camry.
Although not the cheapest, you can rent a compact crossover SUV for under $100 daily.
Payless also has larger vehicles like full-size SUVs, minivans, and passenger vans for renters with large families.
#5 Ace Rent a Car
Relative Rental Rates: Low.
Ace Rent a Car may not be a familiar name in the business, and you'd expect ultra-low prices.
Still, Ace's rental rates – although relatively inexpensive – are almost as high as bigger car rentals like Thrifty or Dollar for some of its vehicles.
But unlike the car rentals earlier in the post, Ace has more vehicles from which to choose, including:
Dodge Charger.
Dodge Durango.
Nissan Murano.
Nissan Frontier.
Mini Cooper.
Chrysler Pacifica.
Toyota Tundra.
The more common Toyotas, Nissans, and Kias remain available at Ace Rent a Car.
#6 Sixt
Relative Rental Rates: Low.
Sixt stands out as a non-US-headquartered car rental in North America.
And if you want to shop for a rental car at a company with an extensive fleet, Sixt is an excellent choice.
Although Sixt isn't the cheapest car rental agency, its long list of vehicles has reasonably affordable daily rates, often below $100 per day for small sedans and SUVs.
It also has larger and high-end vehicles in its fleet, with makes and models like:
BMWs – 2 Series, 3 Series, 7 Series, X1, X3, X5, X7, and Z4.
Chrysler Pacifica – 7-seater minivan.
Chevrolet Tahoe – large 3-row SUV.
With over 100 locations across the US and at major airports, Sixt is worth considering for affordable to moderately-priced rental cars.
#7 Thrifty
Relative Rental Rates: Moderate.
Hertz owns Thrifty, but the latter is the better option if you want lower daily rates for an economical rental car.
Although Thrifty is a lower-profile car rental with below-average customer satisfaction according to JD Power's annual survey, its cars have reasonable daily rates; they are an alternative to the pricier Hertz.
Cars like the Chevy Spark, Nissan Versa, and Toyota Corolla are available at Thrifty, with moderately-priced rentals at under $90/day.
If you need larger vehicles like the Hyundai Santa Fe SUV or convertibles like the Ford Mustang, Thrifty has them.
#8 Dollar
Relative Rental Rates: Moderate.
Dollar is another viable alternative to Hertz with its inexpensive rental cars and sub-$90 daily rates for small sedans and SUVs, including hybrids.
Better still, you can find subcompacts like the Chevy Spark and small SUVs like the Nissan Rogue for under $70 per day, excluding fees and taxes.
Even Dollar's large SUVs do not exceed the $150 per day mark, ensuring affordability for larger families on vacations.
#9 Budget
Relative Rental Rates: Moderate.
Budget is Avis's corporate sibling, and the former is the better pick for lower rental car rates.
While its rental prices are nowhere near the cheapest on the market – despite the 'Budget' name – it is an excellent car rental agency that offers many vehicles for selection at reasonable rates.
If you're looking for sub-$95/day rental cars, Budget has these makes and models for you:
Kia Soul.
Toyota Corolla.
Toyota Camry.
Toyota Prius.
Toyota Tacoma.
Ford Fiesta.
Volkswagen Jetta.
Budget's under $125/day rental for its minivans is appealing for large families – it's cheaper for longer rent durations.
#10 Silvercar
Relative Rental Rates: Moderate.
While many car rentals have BMWs and Mercedes-Benz, Silvercar specializes in Audis, with the marque's models making up the entire fleet.
Audi sedans, SUVs, and Sportbacks are available at Silvercar, and the rental rates around the $100/day mark are attractive, especially for brand loyalists.
Silvercar's uniqueness extends to its contactless pickup and car return, where renters use the company's app to access and drop off the vehicle.
#11 Alamo
Relative Rental Rates: Moderate to pricey.
Alamo is part of Enterprise car rental, so you can expect its rental rates at the higher end of the scale.
When shopping for affordable rental cars, Alamo is probably the limit at which you can reasonably find one.
You can rent cars like Toyota Corolla, VW Jetta, and Chevy Malibu for under $90/day (rpd). Still, Alamo's midsize SUVs and larger sedans edge closer to the $150/day mark, making them unsuitable for modest budgets.
#12 Hertz
Relative Rental Rates: Pricey.
As you reach #12 to #15, you enter the expensive rental car territory.
But suppose you want a relatively affordable rental car among the leading agencies in the space; Hertz is a good bet to get a lower daily rate yet enjoy the service a reputable company of Hertz's status can provide.
Cars like Chevy Malibu (sedan), Chevy Equinox (SUV), and Nissan Rogue (SUV) are available for less than $80 a day, excluding fees and taxes, if you prepay.
Hertz provides a compelling reason to prepay, as the pay-now and pay-later options can vary between $20-$50, depending on the vehicle.
And if you want to rent an electric car inexpensively (under $100/day), Hertz is one of the car rentals with Teslas.
#13 Avis
Relative Rental Rates: Pricey.
Avis's rates can be inexpensive if you rent economy or small cars and SUVs, depending on the seasons.
Opting to prepay will often save you between $10 and $15 per day, and you can rent vehicles like Kia Soul, Toyota Corolla, Ford Edge (SUV), and Mazda CX-5 (SUV) for under $80/day with prepaid reservations.
#14 Enterprise
Relative Rental Rates: Pricey.
Enterprise needs no elaborate introduction as it is one of North America's most reputable car rentals.
JD Power consistently ranks Enterprise among the best in customer satisfaction, but its rental rates are typically more suited for bigger budgets.
Although you can still get sub-$100 per day rentals, the cars typically range between $80 and $100 daily.
#15 National
Relative Rental Rates: Pricey to exorbitant.
National is often king-of-the-hill in rental rates, especially when comparing higher-end vehicles.
Still, $80-plus per day rental rates are possible with small cars like Toyota Corolla, Mitsubishi Mirage, Nissan Versa, and Nissan Kicks.
Car Rentals' Rates & Fees Comparison
The rental rates aren't the only cost component of the final bill, especially if you need add-ons.
Table Guide:
Price – relative rental rates (very low; low; moderate; pricey; exorbitant).
Deposit – as stipulated on their websites; car type dependent.
Extra Driver – fee /driver /day (typically free for spouse/domestic partner).
Under-25 – fee /driver /day; varies by State.
NA – not available.
| | | | | |
| --- | --- | --- | --- | --- |
|   | Price | Deposit | Extra Driver | Under 25 |
| Ace | Low | $200-$500 | NA | NA |
| Advantage | Very low | $350 or 25% of rental | $10 | $25-$100 |
| Alamo | Moderate to Pricey | $300-$400 | $5-$15 | $25 |
| Avis | Pricey | $250-$300 | $3-$13 | $28-$84 |
| Budget | Moderate | $250-$300 | $3-$13 | $27 |
| Dollar | Moderate | $200-$500 | $13.50 | NA |
| Enterprise | Pricey | $400-$850 | $5-$15 | $25 |
| Fox | Low | $150-$1,000 | $5-$12.99 | $20-$25 |
| Hertz | Pricey | $200-$500 | $13.50 | $19 |
| National | Pricey to Exorbitant | $300-$400 | $15 | $25 |
| Payless | Low | $250-$300 | $13 | $25 |
| Sixt | Low | Min. $200 | $15 | NA |
| Thrifty | Moderate | $200-$500 | $13.50 | NA |
| Turo | Very low | $200-$750 | $0 | $30-$50 |
Car rentals comparison table.
Besides, young families may need child safety seat rentals, adding daily costs to the rental – although some companies place a maximum per rental cap, making it more affordable.
Other Ways to Lower Rental Bills
Besides car rental rates, several other cost-related components can help you save on your next business trip or vacation:
References:
https://www.paylesscar.com/en/home